Honour daughters of the soil: Geeta Dutt and Suman Kalyanpur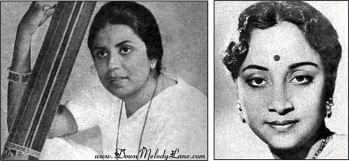 MOST Bangladeshis do not know that two famous playback singers of Hindi movies in the 1950s and 1960s, the late Geeta Dutt and Suman Kalyanpur, are Bangladeshi natives. Geeta Dutt (Geeta Ghosh Roy Chowdhuri) was born into a rich Zamindar family in Faridpur on November 23, 1930 and stayed there until 1942. Suman Kalyanpur (Suman Hemadey) was born in Dhaka on January 28, 1937 and lived there until 1943.
Most western nations, including the US, honour babies born on their soil with instant citizenship. It has been a pet peeve of the writer that Bangladesh has no mechanism for honouring those Bangladeshis who have emigrated, or foreigners who aided in Bangladesh's independence struggle.
Maestro Ravi Shankar and the late Beatle George Harrison, who organised the "Concert for Bangladesh" at the Madison Square Garden in New York at noon and again at 7 P.M. on August 1, 1971, were most responsible for publicising Bangladesh's liberation war in America and the West. At their request, Beatle Ringo Starr and folk singing legend Bob Dylan participated in the concert. Beatle John Lennon had also agreed, but Yoko Ono stopped him because Harrison would not have her on the show! To publicise the atrocities committed against Bangladeshis by the Pakistani soldiers, George Harrison had earlier released a single, "Bangla Desh," and Ravi Shankar a single "Joi Bangla." We lost George Harrison in 2001. Ravi Shankar, our Bengali brother, will turn 88 on April 7.
The writer was told that the Bangladesh parliament has not enacted any legislation to allow Bangladesh to honour foreigners! What a shameful, lame excuse! When we honour noble foreigners, we honour ourselves. Perhaps the current caretaker government will make it possible for Bangladesh to honour legends such as Pandit Ravi Shankar, whose family originates from Bangladesh, Pabna-born actress Suchitra Sen (Roma Dasgupta), Suman Kalyanpur and, posthumously, Geeta Dutt.
Four Bengalis found enormous fame singing Bengali songs and lending their voices as playback singers in Hindi movies -- Hemanta Mukherjee, Manna Dey, Geeta Dutt and Suman Kalyanpur. One could include Kishore (Abhas) Kumar Ganguly, also born into a Bengali family.
When the writer first heard Lata Mangeshkar sing in the mid-1950s, his first reaction was: this voice is too perfect to be human! Of course Lataji has gone on to become the greatest singer of the twentieth century. Lataji liked Geeta Dutt's style. In a recent DVD, she paid tributes to the greatest singers of Indian movies -- Pankaj Mullick, Mohammad Rafi, Mukesh (Chand), Kishore Kumar, Hemant Kumar (Mukherjee) and Geeta Dutt.
Who can forget Geeta's immortal Bengali songs, Tumi Je Amar ("Harano Shur,"1958), Ei Shundar Shwarnali Shandhyay ("Hospital," 1960) and Nishi Raat Baka Chand Akashey. Geeta could sing all types of songs, "soft, snappy, teasing, sad," seductive or western. Geeta developed her talents under the tutelage of Sachin Dev Burman and O. P. Nayyar. Her famous Hindi songs include: Mera Sundar Swapna Beet Gaya, ("Do Bhai," 1947), Babuji Dhire Chalna, ("Aar Paar," 1954), Ae Dil Mujhe Bata De, ("Bhai Bhai," 1956) and Aaj sajan mohe ang lagalo ("Pyasaa," 1957). Geeta's disastrous marriage with the director of "Pyasaa," Guru Dutt, who was in love with Waheeda Rahman, destroyed them both. Guru Dutt committed suicide in 1964; Geeta died of liver cirrhosis on July 20, 1972, at the age of 41!
Although Lataji was a fan of Geeta Dutt, that was not the case with Suman Kalyanpur. The reasons were convoluted. First, Suman's voice sounded so similar to Lataji's that people confused the two. More important, in the early 1960s, Lataji had a falling-out with Mohd. Rafi. As the two dominant playback singers, Lataji wanted Rafi Saab to back her demand that if a movie was a box office hit because of its songs, the singers should get a percentage. Rafi Saab took the opposite view: once a singer is paid for a song, he has no further claim. (Clearly, Lataji was right.) Lataji and Rafi Saab stopped talking, and singing duets.
When it came to choosing between Lataji and Rafi Saab, in those days the music directors preferred Rafi Saab. Because Geeta was running into marital and alcohol problems, up and coming Asha Bhonsle benefited; but the real beneficiary was Suman, because she sounded like Lataji. Music directors successfully substituted Suman for Lataji without missing a beat.
Suman sang several memorable duets with Rafi Saab: Parbaton Ke Petron Par, ("Shagun," 1964), classical Ajahunaa Aaye Baalaama, ("Sanjh Aur Saveera," 1964) Aaj Kaal Tere Mere ('Brahmachari," 1968). Other famous Suman Hindi songs include: Na Tum Hamen Jano, ("Baat Ek Raat Ki," 1962), Mere Mehboob Na Ja ("Noor Mahal," 1965) and Sharaabi Sharaabi, ("Noor Jehan," 1967). Thrice, she won the prestigious Sur Sringar Samsad award for the best classical song in a Hindi movie. Suman's Bengali hits include, Tomar Akash Theke, Mone Karo Ami Nei, and Shudhu Swapno Niye.
Some believe that Lataji never forgave Suman, believing that her rift with Rafi Saab would have ended sooner had Suman not been picking up the slack. When the rift finally ended four years later, through the mediation of actress Nargis and music director S. D. Burman (who had his own run-in with Lataji in 1958), reticent and shy Suman's sojourn as an elite singer was effectively over.
Dr. Fakhruddin Ahmed is a Rhodes Scholar and a Daily Star columnist.