Intel opens up new vista for Bangladesh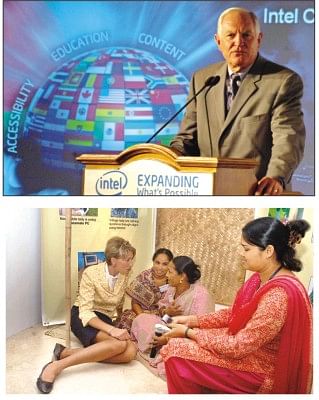 It was a sunny day for Bangladesh. Technology icon and Intel Corporation Chairman Craig R Barrett visited the country on September 4 to open the Bangladesh chapter of the chipmaker's global initiative in a bid to help the rural community by making technology available to them.
The technology evangelist's maiden trip here accompanied the corporation's signature project, World Ahead Program (WAP), which aims at providing people in developing countries with the benefits of better, faster access to information and communications technology (ICT).
Information and communications technology will have a very strong impact on four particular areas of human lives -- education, economic development, health care and e-governance, Barrett said at a press conference in Dhaka.
"We want to bring some of our own experience from around the globe here to accelerate the implementation of these processes and perhaps also take some of the best known methods and issues, such as telecentres to other parts of the world so that other citizens might take advantage of your experience," he explained his company's plan here.
Intel will work in Bangladesh with local entities, government and other organisations to help bring the boon of ICT to the rural community.
Dr Barrett said the Intel programme believes that the four fundamental, basic foundations need to be put into place to allow a society or culture to benefit from ICT.
To drive the World Ahead Program, the chipmaker teamed up with Grameen Solutions (GS), a company founded by Dr Muhammad Yunus to promote economic and social development through ICT.
Based on the agreement, Intel and Grameen will jointly promote and support digital inclusion projects across Bangladesh to improve education, connectivity, and access to technology, localised Internet content and software applications.
"By working together, Grameen and Intel can help Bangladesh make rapid progress in providing its citizens with opportunities for economic and social advancement", Barrett said.
With support from Grameen and the education ministry, Intel is developing plans to launch its education initiatives in Bangladesh, including the Intel Teach and Intel Learn programmes.
The Intel Teach Program trains teachers how to integrate technology in the curriculum to enhance classroom learning. It has proved a big success in South Africa where universities have incorporated the programme into both pre-service and in-service qualifications.
The community-based Intel Learn Program teaches the use of technology and inculcates critical-thinking and collaboration skills into underprivileged youth in the 8-16 age bracket. Every year Intel spends millions of dollars to support education.
The chipmaker will work with local providers to translate much of the educational content that already exists, especially in the areas of mathematics, science and engineering, into the local language so that it can be used here.
It will also work with local software companies to develop localised Internet content and software for the government, schools and telecentres, because rich and localised content is essential to build a knowledge-based society.
Intel, for example, plans to work with local software firms in order to introduce its skoool™ Learning and Teaching Technology. The interactive learning website will provide math and science lessons tailored for local needs.
Dr Barrett noted that "content must be localised and teachers need proper training to utilise technology to motivate their students so that can play a constructive role for widespread implementation of IT".
Plans are already underway for Intel and Grameen to make the Intel-powered Classmate PC more available to students. An affordable, full-featured student laptop, the Classmate PC is seen as well-suited to promoting project-based learning in primary schools.
"Education is vital in developing a skilled workforce," said Dr Barrett, noting that Intel has committed to donating approximately 1,000 computers to schools over the next three years. Intel will work with the Bangladesh government to implement this programme and will donate enough PCs next year to set up a PC lab in 64 districts across the country.
In India Intel-powered Community PCs have become a vital component of rural Internet kiosks. Through this system rural people have now easy access to services like e-government forms -- for example, land records and marriage licences.
"We would like to work with the communications industry to bring the latest in wireless technology in Bangladesh, to ensure that all citizens, all communities have access to the Internet and also to work with the government to show the value of e-governance to citizens." Barrett said.
In China Intel architecture-based "Changfeng PC" project has opened the door to cost-effective computers that are simple to operate and comprises practical applications. Through these devices rural people can meet many of their educational needs and achieve practical knowledge.
Dr Barrett stressed the need for access to technology in order to get these benefits. Intel's plan to establish telecentres throughout the country will generate employment opportunities and at the same time connect rural people to information superhighway.
Intel and Grameen also plan to collaborate through public and private partnerships on the deployment of WiMAX (World Interoperability for Microwave Access) technology, because Internet-based activities will not flourish in rural areas if high-speed Internet connectivity remains beyond the reach of common people.
This technology is widely hailed as a cost-effective and efficient way to deliver broadband Internet access to rural communities. It could be a feasible solution to providing nationwide broadband Internet service in the country.
Intel and Grameen Solutions will work side by side in order develop and maintain WiMAX infrastructure and provide cheap service to the people. If the technology is made available in the rural areas it will nourish the Internet-related businesses, which in turn will create a hi-tech trend, generating more revenue.
Dr Yunus on Intel World Ahead Program said, "This fabulous opportunity will eliminate the barrier of poverty and pave the way to show our potential".
"I firmly believe that with proper support from the government, our collaboration with Intel will enable us to make unprecedented success like that of other developing countries within a short span of time", he added.
Dr Barrett said, "In order to enjoy the optimum benefit from IT, people must have access to technology, get affordable broadband connection, come across rich content and obtain the facility of right education to enrich knowledge level".
While talking to StarTech, Kazi Islam, chief executive officer of Grameen Solutions, promised a bunch of challenging initiatives from his organisation in days to come to take the country ahead. Praising the vision of Dr Yunus, he thanked the microfinance guru for engaging Intel in the country.
"Our first objective was to establish a coalition with Intel and introduce it to local talents; we believe we've successfully done that", he said, adding that their next plan is to analyse obstacles and opportunities and then take an action plan to go forward systematically with Intel World Ahead Program.
"Although Intel has no immediate plan to install any manufacturing plant in Bangladesh, we closely observe the immense potential and opportunities of this land", Dr Barrett told the media.