Companies cry foul over move to cut gas supply to dyeing, re-rolling units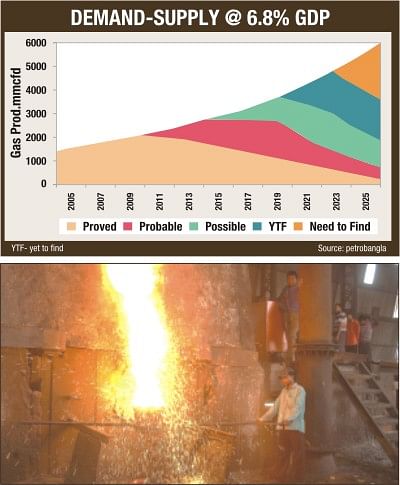 Industrialists yesterday said if the government goes ahead with rationed gas supply to certain sectors, their business prospects would be seriously hit.
While the dyeing sector said exports would suffer, re-rolling mills said the local construction sector may have to live with higher prices of inputs.
"We are panicked. It will seriously affect our exports," said Fazlul Hoque, president of Bangladesh Knitwear Manufacturers and Exporters Association, a body representing country's one of the major export-earning sector.
The move came to ensure adequate supply of gas to power plants to meet the power shortages, which hovers between 800-1000 MW now. The energy ministry took the move Tuesday to ask certain industrials sector to use gas at a reduced rate.
M Tamim, chief adviser's special assistant in charge of the Ministry of Power, Energy and Mineral Resources, said to overcome the short supply of gas the government will request industrial sectors to make reduced use of gas.
According to Petrobangla, total production of gas stood at 1773 mmcf (million cubic feet). But overall demand for gas is about 2000 mmcf. This shortfall is affecting power generation that requires at least 840 mmcf gas, but gets around 680 mmcf. The crisis is also aggravating industrial output, sources said.
Knitwear, the biggest export-earning sector, recorded a 7.95 per cent growth to $2.55 billion in July-December period of the fiscal year 2007-08 from
$2.36 billion a year ago.
The BKMEA president said majority of the factories do not have any electricity back up and run broilers based on gas.
"We have a target of earning $5.4 billion this fiscal year. But if we face problems in getting gas for dyeing, our exports will hurt seriously," he said, adding that dyeing units run 24-hour a day.
Abdul Hai Sarker, owner of the Purbani Group and also the chairman of Bangladesh Textile Mills Association, said, "I cannot afford to stop my production even for one hour because I will be at the risk of default," said Sarker, whose Purbani Group dyes 20 tonnes of yarn and fabric a day.
Official statistics shows industrial consumption of gas, 12 percent of the total gas consumption in the fiscal year 2005-06, grew 13 percent in the fiscal year 2006-07.
Gas consumption is the highest for electricity generation followed by fertiliser and industrial sector, according to Bangladesh Economic Review 2007.
"We consume a very low amount of gas compared with some other sectors. Suspension of gas supply will push further the price of MS rod," said Aameir Ali Hussain, director of BSRM Group, the biggest re-rolling mill.