Dhaka's receding groundwater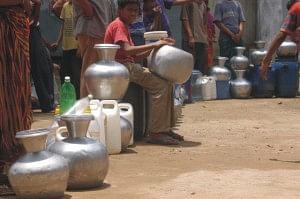 Your front-page report published on 26 March, based on BADC studies, contains a very serious and relevant piece of information, that needs to be addressed at the soonest. It can no longer be ignored and allowed to go out of hand; for it directly relates to availability of drinking water for the large urban population of Dhaka.
Fortunately, the solution is fairly simple, needing no high level of expertise and can be solved locally in all respects. The groundwater level can be raised by recharging. This means the pumping back of surface water directly to the sand layer underneath, through sand filled simple traditional wells. In layman's terms, these wells will act as a blotting paper area absorbing the rainwater back down to the groundwater layers.
The technique is simple, effective and cheap. It needs to be undertaken on a top priority basis; otherwise the drinking water scarcity might turn out to be unmanageable within the next five years! These recharging wells can be located at various "khas land" around greater Dhaka and other densely populated urban areas like Chittagong, Khulna, Sylhet and Rajshahi and other cities of Bangladesh.
Very roughly, the cost of putting up a recharging well for rainwater infiltration including catchments ponds, pumping and flow channels may be around taka one crore; depending on the location, substrata and the catchments area proposed. The CTG should take up this work on top priority basis, without further wastage of time.
The grim picture is vividly illustrated by BADC's study of water depletion data presented for Dhaka. It is significant to note that from a groundwater depth of 28.15 meter in 1997, it has gone down to 59.72 meter in 2006! This represents the lowering of water level by over 112 percent in only nine years! The situation cannot be ignored any more, nor can it be wished away. The remedy is simple; and the time to act is now!