Bush urges allies to send more troops to Afghanistan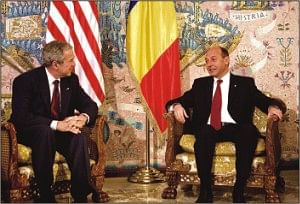 US President George W Bush warned yesterday that "innocent civilians will pay the price" if Nato fails to send more troops to Afghanistan to snuff out "terrorists" still lurking there.
"Our alliance must maintain its resolve and finish the fight," said Bush in Bucharest in a speech ahead of the start of his last Nato summit as US president. "We ask other Nato nations to step forward with additional forces."
"The terrorist threat is real, and defeating the enemy is the top priority," he added, as Nato leaders prepared to debate ways to enhance the transatlantic mission's deployment in Afghanistan.
"If we do not defeat the terrorists in Afghanistan, we will face them on our own soil. Innocent civilians in Europe and North America will pay the price."
The United States and Nato allies with troops confronting the Taliban in the south of Afghanistan are pressing other nations for bigger contributions to the 43,000-strong Nato-led International Security Assistance Force.
Canada, which has suffered rising casualties, has made its continuing presence in southern Afghanistan conditional on others providing at least 1,000 troops as reinforcements along with helicopters and unmanned aircraft.
The nearly seven-year conflict in Afghanistan -- a lair for Osama bin Laden's al-Qaeda network -- has risen to the top of the agenda at the Nato summit that begins later Wednesday and runs through Friday in the Romanian capital.
Bush, eager to leave a positive foreign policy legacy as he prepares to exit the White House, said Nato was no longer a "static alliance" designed to fight a tank war with the Soviet Union in Europe.
Rather, it had evolved into an "expeditionary alliance" that needed 21st century capabilities to deal with a new set of security challenges.
President Nicolas Sarkozy has promised more French troops for Afghanistan, but his prime minister Francois Fillon said Tuesday that details of the mission had not yet been decided.