Celebrating spring
Cultural programme by JRSSP, Dhaka wing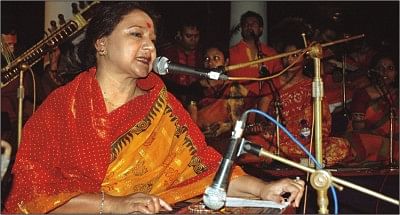 To celebrate spring, the Dhaka wing of Jatiya Rabindra Sangeet Sammlan Parishad, (JRSSP) organised a cultural programme at the Rabindra Sarobar open stage at Dhanmondi on March 20.
Titled Bosonto Utsab, the event is a regular feature since 2003.
"Usually we begin the programme just before sunset. The luminous moonlight throws its reflection on the adjacent lake and lends a special ambience to the audience," said Ghulam Rabbani, president of the Dhaka wing, JRSSP.
"This event seeks to popularise Tagore among the masses," added Rabbani. The programme comprised of Tagore songs and poems.
The function began with the Tagore song – Orey grihobashi khol dar khol and Ore bhai phagun legechhey. A colourful rally was also held to mark the inauguration.
The rally was followed by a recitation. Ghulam Rabbani recited the Tagore poem Bosonto kobita. Shajed Akbar rendered the Tagore song Aji dokhina duar khola. Next, members of the organisation performed a dance with the Tagore song Neel digontey. It was followed by a duet performance by Shahed Emam and Amia Anwar. The duo performed the Tagore song Jodi tarey pai. Next was another dance performance with the Tagore song Labonye purno pran.
Performances by Tripti Khan, Nusrat Jahan Runa and Protiti followed. Ria, a member of the organisation, rendered the poem Aji hote shoto barsho porey.
The group presentation of the Tagore number Ore bokul parul was highly appreciated. Next Onima Roy rendered the popular Tagore number Ektuku chhoya lagey.
Salma Akbar, Chhaya, Swati Sarwar, Oditi, Mita Haque, Bhaswar Bandyopadhyay and others also performed at the event.
The programme wrapped up with a choral rendition of the Tagore song – Aj khela bhangar khela.