Apollo Hospital running at 50pc of capacity
Competition heats up in private healthcare market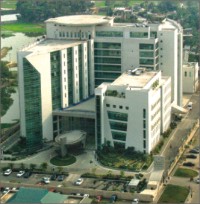 Apollo Hospital Dhaka is running at only 50 percent of its capacity as competition heats up at the top end of the private healthcare market in the capital.
Apollo was built to provide space for 450 patient beds, but less than 300 are installed. Of these the hospital is not able to fill more than 155.
These stark figures were the reason the hospital was forced to cut jobs.
Apollo, which started its operations in Dhaka having investment of US$ 35 million in March 2005, is to reorganise management after it fails to get desired business.
Square Hospital and United Hospital are among the top end private healthcare facilities in Bangladesh.
"Our occupancy never exceeds 155 seats. The hospital, which has currently 287 beds with infrastructure facilities for 450 beds, is really struggling in terms of getting patients," said Giasuddin Ahmed, general manager (public relations) of the hospital.
Most employees of the Apollo Hospital on March 8 staged demonstrations after 150 members of the staff, including docs and nurses, were sacked.
On the job cut the hospital said for the better future of the overall employees, the authorities have decided to right-size the manpower. The right-sizing process is being done under the existing law of the country, the hospital added.
The management of the hospital said it wants to ensure best ever-healthcare services in the country.
"We want to reach break-even point soon to ensure better services for our clients. If we cannot reach the point we cannot provide ultimate services," said Malka Shamrose, business development director of the hospital.
"Our clients are actually the premier class of people in the society and they seek best physicians, best nurses and best technicians. So, we need to reorganise our setup," Shamrose said.
As part of the right-sizing manpower the management retrenched a total of 550 nurses and staffs from its 1400 employees, Giasuddin said.
A total of nine private commercial banks of the country funded 50 percent of the total project cost in a syndicated loan.
A group of highly qualified doctors and nurses from both home and abroad have been appointed in the hospital. Of them, a good number of doctors are from the United States and India.
The most advanced computerized tomography (CT) machine has been introduced in the hospital, funded by local business group STS Holdings.