19 more killed
Jamaat-Shibir unleashes another wave of terror in 5 districts during first day of hartal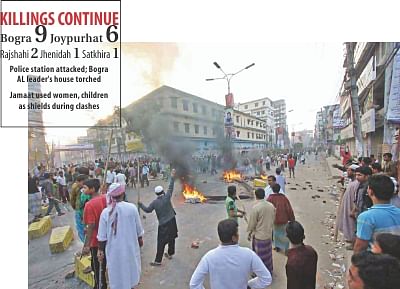 It was all lies -- outright and outrageous -- but it worked. Jamaat's propaganda machine used a photoshopped image of Delawar Hossain Sayedee's face on the moon yesterday to entice people to unleash a second wave of terror that left at least 19 people, including a policeman, dead in five districts.
Bogra witnessed the worst, as Jamaat-Shibir men assembled locals through repeated announcements over loudspeakers that "Sayedee's face was seen on the moon and it's your holy duty to save him; otherwise, we all will go to hell". Around 4 in the morning, they launched into attacks on police in different upazilas.
At least nine people were killed in Bogra, six in Joypurhat, two in Rajshahi, one in Satkhira and a policeman in Jhenidah in a deadly spate of violence throughout the day.
Three women were among the dead in Bogra, as Jamaat men used women and children as a human shield during the attacks on law enforcers.
The situation worsened to such an extent that the local administration had to seek the army's help to protect the Shahjahanpur Police Station in Bogra.
At least 63 people have died since Jamaat-Shibir activists went on the rampage on Thursday after a war crimes tribunal sentenced Sayedee to death.
Yesterday was the first day of Jamaat's two-day hartal to protest Thursday's police action.
Meanwhile, Border Guard Bangladesh personnel were deployed in the capital around 8:00pm to ward off violence.
In Bogra, activists of Jamaat-e-Islami and its student wing Islami Chhatra Shibir tricked hundreds of villagers into taking to the streets in the early morning, and launching attacks on law enforcers.
They clashed with law enforcers, attacked a police station and six outposts, vandalised and torched different offices. At least four people, including three women, died in Shahjahanpur upazila, three in Bogra Sadar and two in Shibganj upazila.
The violence that began around 4:00am came to a halt after four hours following news of troops deployment. However, army personnel were called back around 6:00pm.
People in different upazilas said they heard announcements over loudspeakers in the early hours on Sunday that Sayedee's image was seen on the moon.
Moved by the announcements, hundreds of people, mostly from Shahjahanpur, Kahalu, Shibganj and Dupchanchia upazilas, came out of their houses and started marching towards Bogra Sadar upazila headquarters, protesting the death penalty to Sayedee.
A few thousand people attacked Shahjahanpur Police Station near the Bogra Cantonment, around 6:00am.
"They beat up policemen indiscriminately in a surprise attack," Mahmudul Alam, officer-in-charge of the police station, told The Daily Star.
Police opened fire to bring the situation under control, said Bogra Superintendent of Police Mozammel Haq.
Four people died there.
Atiar Rahman, an inspector of the police station, identified the four as Arjinba Begum, 45, Monjila Begum, 48, Achhia Begum, 45, and Abdur Rahman, 60.
The protesters set fire to the house of Momtaz Uddin, president of district AL unit, in the town.
The vandalism continued for nearly 50 minutes. Three more persons died in clashes in Bogra Sadar.
Their identities could not be known.
Section 144 was imposed in Bogra municipality from 7:00am to contain violence, and it would remain in force until further orders, said Arifuzzaman, nezarat deputy collector in Bogra.
In a statement, Federation of Bangladesh Chambers of Commerce and Industry (FBCCI) condemned attacks on the house of FBCCI director Momtaz Uddin, business establishments and the office of Rajshahi Chamber of Commerce and Industry.
Joypurhat witnessed a spate of violence, as pro-hartal activists clashed with police in Panchbibi and Sadar upazila. At least six persons were killed and 30 others were hit by bullets during the clashes.
The dead are Nasir Uddin, 18, of Bashkur village, Hasib Uddin, 50, of Baramanik, Forman Ali, 30 of Rasulpur, Abdul Hakim, 32, of Salaipur, Mojidul Islam, 35, of Kashra village, and Abdul Bari, 24, of Rahmatpur village.
Five of them were killed in Panchbibi and the other in Joypurhat sadar, said sources.
Jamaat-Shibir activists swooped on police in front of Joypurhat Palli Bidyut Samity office around 11:00am, prompting police to fire shots. One person was killed on the spot.
Another group of Jamaat men gathered at Panchbibi Bazar to lay siege to the Panchbibi Police Station. As they marched towards the police station, BGB and police personnel fired shots, leaving two persons dead.
Three of the injured later died at Panchbibi Health Complex.
Md Hamidul Islam, superintendent of police in Joypurhat, confirmed that three persons died in the clashes.
However, Fazlur Rahman, Jamaat ameer in Joypurhat, said six persons were killed during the clashes in Panchbibi and Joypurhat.
Section 144 was imposed in Panchbibi and Joypurhat sadar following the clashes.
OTHER DISTRICTS
Jamaat men launched attacks on law enforcers at Godagari upazila in Rajshahi, leaving at least two persons dead and 30 people injured.
The dead are Rafiqul Islam, 12, of Godagari municipality, and Mojahid Hossain, 45, activist of Jamaat municipality unit and Imam of Mohishalbari mosque, said Wahidul Islam, officer-in-charge of Godagari Police Station.
Section 144 was slapped in the municipality for an indefinite period after the clash, said Godagari Upazila Nirbahi Officer Tuhinur Alam.
Witnesses said the clash erupted when more than 500 Jamaat-Shibir men barricaded the Chapainawabganj-Rajshahi highway with logs, and burnt tyres around 9:00am.
Another group of pickets chased law enforcers at the cinema hall intersection, damaged vehicles and threw brickbats at police.
At one stage, the pickets fired shots and threw cocktails at the law enforcers.
In retaliation, police and BGB personnel fired over 100 rounds of rubber bullets to disperse the attackers, said OC Wahidul.
Pro-hartal activists also put up barricades on Chapainawabganj-Rajshahi road at Abhoyer intersection, on Rajshahi-Naogaon road in Mohonpur upazila and Rajshahi-Natore road at Kharkhari around 9:00am.
In Jhenidah, Jamaat-Shibir men hacked to death a policeman and gouged out his eye at Sanatanpur police camp in Harinakundo upazila.
They attacked the police camp, forcing the on-duty policemen to retreat to the headquarters. They soon caught up with the policemen and hacked them indiscriminately.
The Jamaat activists hacked Constable Omar Faruque to death and gouged out his eye.
Several seriously injured policemen were admitted to the hospital.
Nearly 3,000 Jamaat-Shibir and BNP activists also brought out a procession in Harinakundo upazila.
Jamaat men vandalised establishments in the upazila and set fire to government offices. Police lobbed teargas canisters and fired rubber bullets to disperse them.
At least one person was killed and seven others, including three BGB members, were injured in a clash between BGB personnel and Jamaat activists at Raichhpur in Sadar thana, two kilometres away from Satkhira town.
Lt Col Abu Basir of BGB in Satkhira said Jamaat men attacked two BGB vans near the border around 12:00pm, prompting the BGB personnel to fire shots.
A Jamaat supporter was killed and three BGB members were injured in the incident.
A clash between Jamaat men and Awami League activists ensued at Nalta, when ruling party men tried to prevent Jamaat-Shibir activists from carrying out vandalism.
In Chittagong, clashes and gunfights between Jamaat men and Rab personnel left at least 14 people injured at Shekher Khil in Banskhali upazila.
Vehicular movement on Chittagong-Cox's Bazar highway remained suspended, as Jamaat-Shibir men barricaded the highway with logs.
Meanwhile, pro-hartal activists in Pabna put up barricades on the Dhaka-Pabna and Pabna-Kushtia highways after Fajr prayers. They also attacked the house of an AL union unit president and five shops at Ataikula.
Jamaat-Shibir men also felled hundreds of roadside trees and blocked the Cox's Bazar-Teknaf-Arakan road since Saturday night. They also swooped on law enforcers at Ukhia upazila in Cox's Bazar, leaving at least five policemen injured.