170 ultra-poor families yet to get loan allocated for shelter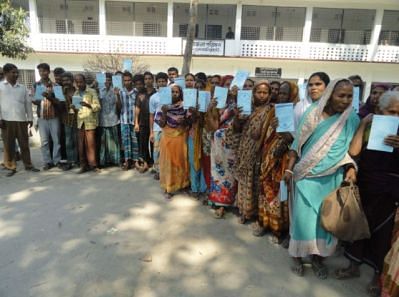 Ultra poor people living at a government shelter in Sadar upazila yesterday demanded early disbursement of interest free loan allocated by the Prime Minister's Office (PMO).
Tk 17,00,000 was allocated for rehabilitation of 170 families, said upazila cooperative office sources.
Members of Saptana Abason Unnayon Samity, who were staging a protest on the upazila parishad office premises, said that Shamsul Haque, upazila cooperative officer, assured them of releasing the loan money five months ago but to no effect yet.
The protesters threatened to go for a tougher programme if the demand was not met within a month, said Taj Mahmud, president of the Samity.
They also submitted a written allegation to the upazila nirbahi officer (UNO) Nazmul Huda in this regard.
Zakir Hossain, a resident of Saptana Abason, said being asked by Shamsul, they went to his office several times in the last three months but the fund was not disbursed due to unknown reason.
Contacted, the UNO said that he would take initiative for disbursement of the fund after the meeting of implementation committee on March 12.
The upazila cooperative officer said Tk 10,000 for each family is yet to be disbursed due to delay in some official procedures by the project implementation committee.
He hoped that the fund would be disbursed soon after the meeting of the committee.