Pope bids farewell to huge crowds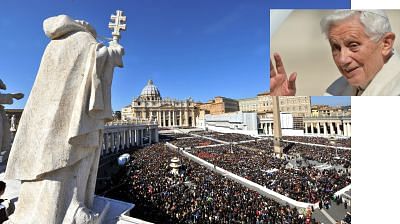 Pope Benedict XVI yesterday admitted "stormy waters" during his papacy as he gave his farewell speech in St Peter's Square before tens of thousands of pilgrims on the eve of his momentous resignation.
A smiling Benedict looked relaxed as his white "popemobile" bore him through the famous plaza where more than 150,000 people had gathered under a bright, cloudless sky for his historic sendoff.
A hush fell over the sea of pilgrims as the pope began speaking.
Benedict drew an analogy between his reign and a miracle recounted in the Bible when Jesus Christ calmed the waters as he was sailing on a fishing boat with his disciples including St Peter -- who is believed by Christians to be the first pope.
"I always knew that the boat of the Church is not mine, is not ours, but is his and he will not let it sink," the leader of the world's 1.2 billion Catholics told the cheering crowd.
Benedict also said his decision to resign -- which makes him the first pope to do so since the Middle Ages -- had not been an easy one but had been taken for the good of the Church.
The frail 85-year-old stunned the world with his abrupt decision to end an eight-year reign dogged by scandal and Vatican infighting, declaring he was too weak to keep up with the modern world.