Another turtle fitted with transmitter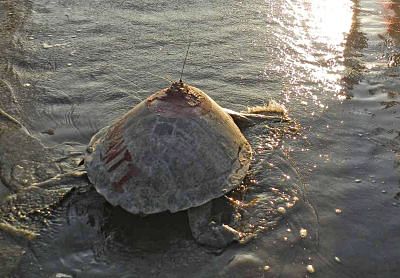 Experts have installed a transmitter in a turtle's body and released it in the Bay of Bengal from Sonadia Island to observe its migration routes and offshore habits for better conservation.
On Friday, the experts of Marinelife Alliance installed the device in the body of the turtle named "Basanti", an endangered species of "Olive Ridley turtle".
Earlier in 2011, they tracked another turtle, named "Urmee", of the same species. They found that it traveled around 12,000 km up to the Sri Lanka coast after releasing eggs in the coast area of Sonadia Island in Cox's Bazar of Bangladesh.
Zahirul Islam, executive director of Marinelife Alliance, said, "We are trying to know their migration routes and investigate their critical offshore biological information needed to apply the conservation measures to save them."
The "Basanti" has been named after the Bangla season "Basanta", and it was caught from Sonadia offshore area. It released 115 eggs this season, he said.
The device is equipped with a Platform Terminal Transmitter (PTT) and it has been installed in its carapace, he added.
A number of turtle scientists from USA, Australia and UK have provided technical support to install the device.
Now, "Basanti" is staying near Inani beach area and it would make nest in the area for laying eggs again for the second time in this season, Zahirul said.
Information about the migration routes of "Basanti" can be found at: www.seaturtle.org/tracking/?project_id=487, he said.
"We lost tracks of Urmee after 357 days, though the longevity of its transmitter's battery was around 800 days," he said.
"Urmee" might have been caught by fishing net as the whole south shallow areas are full of fishing trawlers," he added.
Many endangered species like Olive Ridely and Green turtles make their nests at the long sandy beaches of Cox's Bazar, St Martin's Island and Sonadia Island during the winter season.