Three Upazilas of Lalmonirhat
Foot-and-month disease kills 73 cattle in 20 days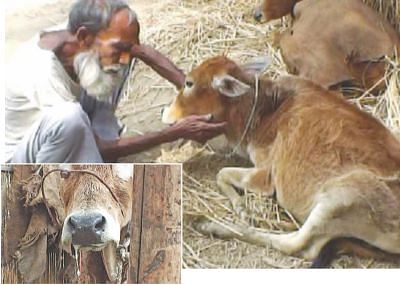 At least 73 cattle died of foot-and-mouth disease and 1000 more have been affected in three upazilas of the district during the last 20 days.
Despite informing the livestock officials of the matter, they have so far failed to take any effective measure to check the disease, much to the worry of cattle owners of Lalmonirhat Sadar Aditmari and Hatibandha upazilas .
The disease appeared about 20 days ago but it is now spreading in an epidemic form at Chinipara, Harati, Mohendronagar, Kulaghat, and Kalmati villages of Lalmonirhat Sadar upazila; Hajiganj, Velabari, and Kadomtola villages of Aditmari upazila; Goddimari, Dawabari, Nowdabash and Singimari villages of Hatibandha upazila.
As the affected cattle develop symptoms like high temperature, drooling of saliva, blister in tongue and around gum, they cannot take solid food and later die, cattle owners said.
They blamed shortage of vaccine and lack of necessary measures by the livestock officials for failure to check the spread of the disease.
Tomijuddin of Chinipara village in Lalmonirhat Sadar upazila said his three cows died of foot-and mouth disease in a week. "I could not ensure treatment of my cows for lack of vaccine at upazila livestock office, he said.
Anwar Hossain of the same village said one of his three cattle died of foot-and-mouth disease a week ago. He went to the upazila livestock office but he didn't get any vaccine. "If the livestock office fails to give vaccines immediately, two more cows may be attacked with the disease anytime," Anwar said, adding that vaccines are not available in the market.
A farmer of Hajiganj village under Aditmari upazila said over 100 cattle have been affected with foot-and-mouth disease at the village. He said many more cattle at the village may be affected with the disease anytime if they are not provided with vaccines as soon as possible.
Laila Yasmin, veterinary surgeon of Lalmonirhat Sadar Upazila, a special medical team has been working at the villages of the upazila, giving advice and distributing medicines to help cattle owners to check the disease.
Farmers face problem as vaccines are not available in the market, she said, adding that many cattle are likely to be affected with foot-and-mouth disease if vaccines are not provided for them immediately.
Contacted, District Livestock Officer Dr Abu Hossain Sarker said efforts to check spread of the disease are being hampered due to scarcity of vaccine.
"I have already informed the higher authority of the matter and sought vaccines for the affected upazilas," the livestock officer said.