Jamaat has no right to do politics
Says PM as she consoles Rajib's family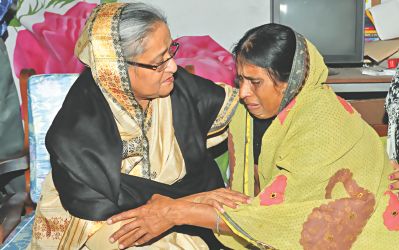 Prime Minister Sheikh Hasina yesterday said Jamaat-e-Islami and its student wing Islami Chhatra Shibir have no right to do politics in Bangladesh, as they believe in terrorism, not democracy.
"They don't believe in democracy. They believe in terrorism and practise politics of terrorism," Hasina told journalists after consoling the bereaved family of slain Rajib Haidar, a blogger and activist of Shahbagh movement, at Rajib's Pallabi house.
"They don't have any right to do politics in independent Bangladesh," Hasina said in an emotion-choked voice.
The prime minister said she would do whatever is necessary to tackle this force. "I will not let them have that right as long as I am alive. I can assure you this."
Seeking people's cooperation to save Bangladesh from the clutches of Jamaat-Shibir, she urged all to stand beside the Shahbagh protesters. "We have expressed solidarity with the Shahbagh protesters."
Hasina reached Rajib's tin-roof house at Palash Nagar in Pallabi at about 3:45pm and stayed there for about 20 minutes. She consoled Rajib's bereaved family members and assured them of justice.
She later told journalists that the government has taken all measures necessary to ensure security of the Shahbagh protesters.
The youths have awakened the whole nation after 1971. "Rajib's killing happened at a time when the youths have united the whole nation."
Everyone can guess who were behind the killing, said Hasina. "But I promise that we will not spare the killers."
Referring to Rajib's murder, Hasina said she had feared that something bad might happen. "And it finally came true."
Blaming Jamaat-Shibir for the killing, Rajib's father Dr Nazimuddin told The Daily Star, "My son became their target, as he used to write against Jamaat-Shibir."
Nazimuddin, a freedom fighter, demanded that Jamaat-e-Islami be banned in Bangladesh.
Locals brought out processions in the area demanding exemplary punishment to Rajib's killers.
The body of Rajib, a blogger and activist of the Shahbagh movement calling for capital punishment to all war criminals, was found with stab marks near his Pallabi house on Friday night.
Meanwhile, National Human Rights Commission Chairman Prof Mizanur Rahman told ATN Bangla that Jamaat-e-Islami should be banned for the sake of security of the people and maintaining peace in the country.
"A state and a government cannot tolerate such violent and confrontational attitude [of Jamaat]. Considering the importance of maintaining peace and safety of people, such illegal and violent party should be banned," the TV channel quoted him as saying.