Spirit of Shahbagh in Kolkata
Artistes perform Tagore songs at "Bangla Gaan-er Utshab"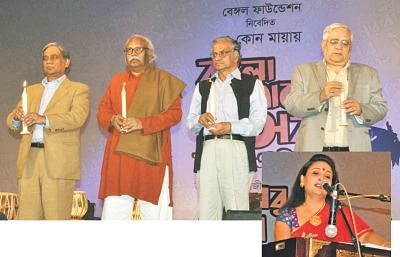 Expressing solidarity with the young protesters at Shahbagh (Dhaka) and elsewhere across Bangladesh, organisers representing Bengal Foundation and ITC-Sangeet Research Academy lit candles at 7pm (Bangladesh time) at the February 14 programme of "Bangla Gaan-er Utshab", being held at ITC-SRA ground, Kolkata in India.
Eminent artist Professor Rafiqun Nabi graced the occasion as a special guest. Bengal Foundation Chairman, Abul Khair; executive director of ITC-SRA, Ravi Mathur; monthly literary journal 'Kali O Kalom' editor, Abul Hasnat; Founder and Chairman of BRAC, Sir Fazle Hasan Abed; and CEO, Chief Editor of Maasranga Television, Syed Fahim Munaim lit candles at the festival venue.
Three noted Bangladeshi artistes -- Mita Huq, Bulbul Islam, Laisa Ahmed Lisa -- along with Aditi Gupta (from Kolkata) performed mainly Tagore songs on the seventh day of the festival.
Aditi Gupta set off the day's programme with several Tagore songs including "Mor Shondhaye Tumi", "Kar Milon Chao" and "Mor Beena Othey".
Bulbul Islam started off his part with a patriotic song "O Amar Desh-er Mati". His performance of devotional pieces, including "Tomaye Amaye Milon Hobey Boley" and "Tomaye Notun Korey Pabo Boley" were soulful. Bulbul Islam also captured the essence of spring with renditions of "Ei Udashi Hawar Poth-e Poth-e" and "Eki Labonye Purna Pran". He wrapped up his part with "Ami Chanchal Hey".
Laisa Ahmed Lisa won hearts with "Chitto Pipashito Rey", "Je Raat-e Mor Duarguli", "Ami Tomar Shonge", "Ke Bolechhey Tomaye Bondhu" and "Ki Sur Bajey Moner Majhey". The singer presented a moving rendition of the DL Roy song "Moloy Ashiya", that articulated the message of spring. Lisa, with utmost devotion, performed a baitalik song "Shudhu Tomar Bani Noy Go".
Mita Huq was the last performer of the night. The artiste performed an array of songs including "Koto Ajanarey", a "Geetanjali" number "Jagotey Anandajoggey", "Pran-e Khushir Joar Eshechhey", "Amar Poth-e Poth-e" "Mon-e Robey Kina" at the festival. She immersed in musical nirvana when presenting "E Porobashey Robey Ke" and wrapped up her part with "Jodi Tor Daak Shuney Keu Na Ashey".
Today's (last day of the festival) programme will feature artistes -- Siddiqur Rahman, Chandana Majumdar, Rob Fokir, Ramkanai Das, Kiran Chandra Roy and Farida Parveen -- performing folk songs. The albums to be launched are: "Bajuk Pran-e Bangla Gaan", "Bhober Ghat-e" by Chandana Majumdar, "Shomoy Gele Sadhon Hobey Na" by Farida Parveen, "Sur-dhunir Kinara-e" by Ramkanai Das and "Mon-e Ki Porey Na Pothik" by Kiran Chandra Roy.
The festival, dedicated to National Poet Kazi Nazrul Islam, has Prothom Alo and The Daily Star as partners. Maasranga Television is the broadcast partner and Charbela Chardik, Kali O Kalam and Bengal Barota are media partners of the festival.