Loko Natyadal (Banani) to stage 600th show of Kanjus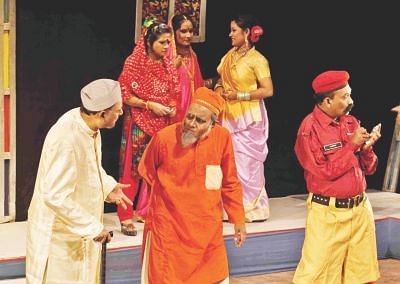 Theatre troupe Loko Natyadal (Banani) will stage the 600th show of its popular play "Kanjus" today at the National Theatre Hall of Bangladesh Shilpakala Academy. Prior to the show, the troupe will hold a brief programme to celebrate the landmark. Tarique Anam Khan, noted actor and translator of the play, will be honoured at the programme.
Director of the play Kamrun Noor Chowdhury shared his excitement and said that this milestone will inspire both him and the other troupe members. "In our country, staging of 200th or 300th show of a play is considered a huge accomplish. So, the 600th show of 'Kanjus' is something remarkable," he said.
The celebration programme will have educationist Professor Abdullah Abu Sayeed as chief guest. M. Hamid, director general, Bangladesh Television, and Jhuna Chowdhury, secretary general, Bangladesh Group Theatre Federation will be present as special guests.
Tarique Anam Khan has translated the play into Bangla from French playwright Moliere's classic, "The Miser".
The play narrates the story of people from old Dhaka. The actors often improvise on stage to keep the play contemporary and interesting.
Cast of the play includes Khairul Alam, Kamrun Noor Chowdhury, Zahidur Rahman, Abdullah Al Harun, Eugene Gomez, Samshad Begum, Monika Biswas and Camellia Jelly.
The play premiered on May 8, 1989 as a production of Loko Natyadal. Back then Liaquat Ali Lucky was the director. The troupe was divided into two factions after 470 shows of the play. When the troupe was divided, Lucky continued with the Siddheswari faction, while the Banani wing found a new director.