Mufti Hannan revealed Hawa Bhaban plot
Magistrate tells of Huji leader's confessional statement citing bigwigs' role in grenade attacks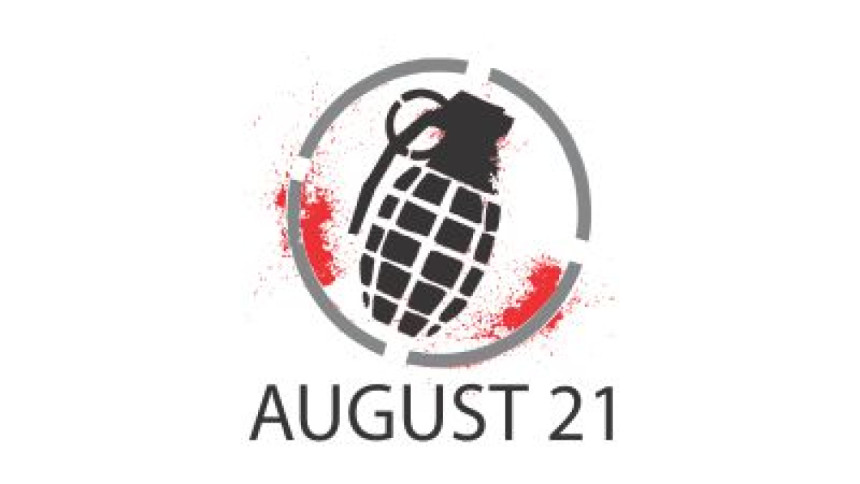 Huji leader Mufti Abdul Hannan in his 2011 confessional statement named some intelligence and political bigwigs, including Khaleda Zia's son Tarique Rahman, as masterminds of the August 21 grenade assault launched to assassinate Sheikh Hasina.
AHM Habibur Rahman Bhuiyan, the then additional chief metropolitan magistrate who had recorded the statement, told a Dhaka court about its content yesterday.
Hannan, chief of banned militant outfit Harkatul Jihad al Islami (Huji), was in the dock while Habibur, now an additional Dhaka judge, was giving his testimony on recording the confessional statement. The Daily Star has obtained a copy of Hannan's statement.
The Huji leader had also narrated some conspiratorial meetings to assassinate Awami League chief Sheikh Hasina, the then opposition leader. He was present at the meeting along with some influential leaders and ministers of BNP and Jamaat-e-Islami, Huji leaders and top intelligence officials. Tarique, then senior joint secretary general of BNP, assigned two party leaders -- state minister for home Lutfozzaman Babar and deputy minister Abdus Salam Pintu -- to provide all out assistance to the Huji men to carry out the attack. Tarique, elder son of former prime minister Khaleda Zia, is now the party's senior vice chairman.
"Before the grenade attack on an Awami League rally on August 21, 2004, I along with several other Huji leaders went to Hawa Bhaban," Hannan said in the statement.
Hawa Bhaban was the political office of BNP Chairperson Khaleda Zia. There, the militant leader said, he found Tarique, Abul Harris Chowdhury, former state minister for home Lutfozzaman Babar, Abdus Salam Pintu, BNP lawmaker Kazi Shah Mofazzal Hossain Kaikobad and Jamaat-e-Islami Secretary General Ali Ahsan Muhammad Mojaheed. Brigadier General Abdur Rahim, then director general of National Security Intelligence (NSI), and Brigadier General Rezzakul Haider Chowdhury, then director general of Directorate General of Forces Intelligence (DGFI), were also present.
"I informed them about the plan of grenade attack on Awami League rally, which was to be addressed by Sheikh Hasina, and sought their assistance."
Tarique then assured them of full support and told them to communicate with Babar and Pintu for administrative assistance, the statement read.
Hannan began his statement saying that AL was defeated in 2001 general election and BNP and Jamaat-e-Islami formed the government. His organisation tried to strengthen its relation with BNP. Huji ameer Moulana Abdus Salam, Sheikh Farid, Moulana Yahiya, Abu Bakar and Jahangir Badar contacted BNP lawmakers Salauddin Quader Chowdhury and Kaikobad. The two leaders arranged High Court bails for 41 Huji men arrested in Dhankhali in 1996. Hannan said the Huji's communication with the BNP leaders continued and the outfit kept receiving assistance from them.
Towards the end of 2003, Abdus Salam Farid, Moulana Tajuddin, brother of BVNP leader Abdus Salam Pintu, met Babar at his government residence on Bailey Road in the capital. There GK Gaus, Ariful Islam, former DCC ward councillor; Yahiya and Abu Bakar, were also present there. Babar told Gaus and Arif about the task of Sylhet and ordered them to do the work locally. In Sylhet, local BNP men and Huji men exploded grenades.
At the court yesterday, Habibur Rahman Bhuiyan said around 3:00pm on April 7 of 2011 jail police produced Mufti Hannan at his chamber for recording confessional statement. Hannan was given three hours to make up his mind. Judge Shahed Nuruddin of the Speedy Trial Tribunal-1 recorded Habibur's statement for half an hour yesterday. Later, barrister Fakhrul Islam, a counsel for Mufti Hannan, cross-examined him.
The defence will again cross-examine Habibur today as the court adjourned the trial proceedings for yesterday. Syed Rezaur Rahman, chief counsel for the August 21 grenade attack cases, stood for the state.
The August 21, 2004 grenade attack on an Awami League rally killed Ivy Rahman, wife of President Zillur Rahman, along with 23 others and wounded over 300 people. Sheikh Hasina, now prime minister, narrowly escaped death and suffered ear injuries.