Two-day fuel strike comes to a close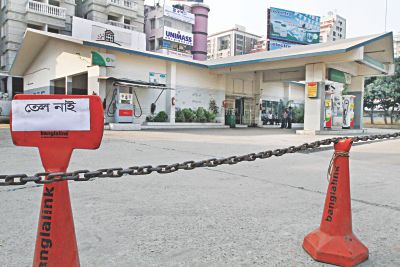 Sales of fuel resumed yesterday evening as petrol pump and tank-lorry owners called off their strike after the government met their demands.
"We have already started selling fuel as the government has agreed to all of our demands," Harunur Rashid, secretary general of Petrol Pump Owners Association, told The Daily Star.
The withdrawal of the strike that began on Sunday came after a meeting between the Bangladesh Petrol Pump Owners and Tank-Lorry Owners-Workers Unity Council and the energy ministry at the secretariat in the evening.
Nazmul Haq, convener of the council, who led the talks with the government, said the government has increased the commission on sales of diesel by 25 paisa to Tk 1.45 a litre, octane by 49 paisa to Tk 3.36, petrol by 51 paisa to Tk 3.50, kerosene by 20 paisa to 90 paisa.
The government has also hiked the fare of tank lorry: by 5 paisa to 45 paisa for each kilometre a tank-lorry travels 40 kilometres and by 11 paisa to Tk 2.22 per kilometre for trips upwards of 40 kilometres, Haq said.
Muhammad Enamul Huq, state minister for power, energy and mineral resources; Tawfiq-e-Elahi Chowdhury, prime minister's adviser on energy; and Mohammad Mejbahuddin, the energy secretary, were present at the meeting.
Haq also said the government has also given assurance to meet their demands on workers' insurance, ensuring terminal security and stopping adulteration of fuel and illegal sales of fuel.
The council, which represents the country's 5,000 petrol pumps owners, 4,000 agents and distributors and 30,000 tank-lorries owners, enforced the strike to press home their nine-point demand.
Bikers and vehicle owners who are yet to convert their cars into compressed natural gas-run ones experienced immense suffering refuelling yesterday, the second day of the nationwide strike.
Meanwhile in Narayanganj, tank lorry workers staged a demonstration in the morning, refusing to work for the rest of the day.
Md Awal, the in-charge of Padma Oil Company's depot in Siddhirganj, said fuel oil lifting and distribution had remained suspended for last two days due to the strike.