Spectacular Sunidhi scintillates Dhaka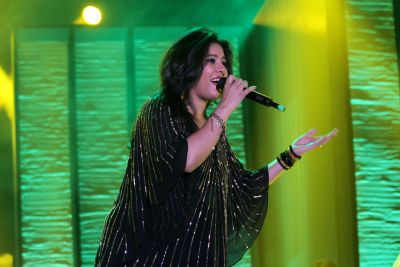 Making a first impression is important. But rules that apply for general people, don't apply for the special ones, and Sunidhi Chauhan proved in front of a packed house at Army Stadium on January 4 that she is no ordinary artiste. After the anticipation to "Nokia Presents Sunidhi Chauhan - Live in Dhaka" - was built up rather lengthily by two "surprise" artistes, Sunidhi put up a stunning display that was as good in its execution as it was in transitions.
The evening, however, began with DRockstars winner Shuvo performing a wide array of songs, starting from SD Burman classic "Nitol Paye" to legendary rock act Queen's "I Want to Break Free" to Jason Mraz's "I'm Yours" to an interesting mandolin-backed version of "Summer of '69". He was followed by 2010 Indian Idol finalist Ralesh Maini, who performed Bollywood hits to a somewhat meek response.
Sunidhi Chauhan entered centre-stage in almost gate-crashing fashion, with "Crazy Kiya Re". What followed next were a number of upbeat, energetic numbers that took the crowd on a high, with likes of the groovy "Raat ke Dhai Baje", "Mind Blowin' Mahiya", the flirtatious "Halkat Jawani", and party anthems "Ainvayi Ainvayi" and "Desi Girl". The most striking characteristic of the first set of her performances was her stage presence and the ease with which she held a massive crowd at her command. All these film songs that she sang are visually remembered by the audience for the heroines, but Sunidhi effortlessly took those mental images away, taking the whole stage up in dancing and moving much more gracefully than her on-screen counterparts, without the slightest hint of vulgarity that is sometimes associated with the "item songs" that she has made a reputation of singing. With a magnificent throw of voice, be it a soft classical-like piece or an operatic pitch, Sunidhi was equally spectacular with her vocals and her stage act.
After a short break when Rakesh Maini returned on stage to give her some respite, Sunidhi Chauhan came back on a whole different mode. Gone were the thumping beats and the dance moves, as she put on a soft, misty blanket of melody over the stadium with "Ishq Sufiana" and "Bin Tere", bringing out her lower-octave vocal range and soulfulness. But she was not done with her display of versatility, as she brought out the best of her sultry vocals in the sensuous number "Aa Zara", and immediately shifted gears with the adolescent-like exuberance of "Gun Gun Guna". As the crowd went berserk, Sunidhi had one last show to put on; that of bringing out the best in another singer. Rakesh Maini, who she judged at Indian Idol, remained forgettable throughout the evening - until Sunidhi brought him up for "Chokra Jawan" and "Disco Deewane" - that made Rakesh look like a different singer altogether.
The tens of thousands that came to watch the show certainly went back with more that they wished for, because that is what artistes like Sunidhi Chauhan are good at; giving people evenings to remember.