Are Tupperware products environment-friendly?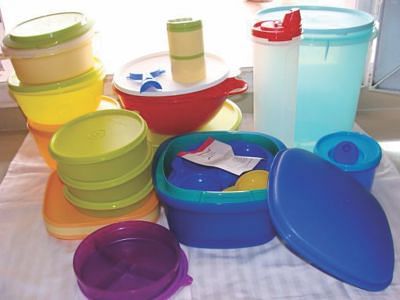 Tupperware is an America based international company producing beauty products and plastic wares which has sales operation in many countries. In Bangladesh, Tupperware started its sales operation in 2012 with different types of plastic food containers.
The company has a special sales system which aims at empowering women in Bangladesh. Only females can associate themselves with Tupperware sales system in Bangladesh. At the moment Tupper has no local facility for making products in Bangladesh. So the current sales operation is going on imported plastic products. I appreciate the Tupperware's noble motto. But I have some questions and confusions about their products and sales operation:
--The price of Tupperware products is too high when the local plastic products are cheaper and affordable. Aren't imported Tupper products causing harm to the local plastic products manufacturer?
--Since Tupper does not sell their products through sales centres or dealers but only through their women sales team, the customers do not have flexibility to buy products of their choice from a wide range of products.
--Tupper claims that their products are made of virgin plastic but even the virgin plastic are not suitable for humans and environment because of additives mixed during processing of virgin plastics. Instead, recycled plastic helps control environmental pollution. Above all, plastic products are not good for human health as well as the environment. The authorities concerned may examine the above issues for the greater good.