HSBC arranges $420m loans for Ashuganj Power Station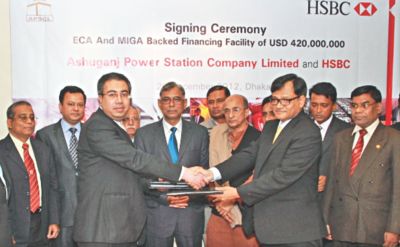 HSBC Bangladesh has arranged $420 million loans for Ashuganj Power Station Company Ltd (APSCL) to help the state-run electricity producer set up a 450-megawatt combined cycle power plant.
HSBC signed an agreement with APSCL yesterday at Radisson Hotel in Dhaka to help the power producer use the fund backed by the Export Credit Agency and the Multilateral Investment Guarantee Agency.
The project is the first transaction of its kind in the power sector in Bangladesh, the bank said in a statement.
Ashuganj Power Station is the second largest power plant in Bangladesh with installed capacity of 724 megawatts and de-rated capacity of 642-megawatt, meeting 15 percent of the country's electricity requirements.
"The credit arrangement is a reflection of HSBC's ongoing efforts to support infrastructure growth in public sector in Bangladesh, especially bolster government activities to enhance power supply in order to sustain the current economic growth momentum," the bank said.
Tawfiq-E-Elahi Chowdhury, energy adviser to the prime minister; Muhammad Enamul Huq, state minister for power, energy and mineral resources; Anwar Hossain, chairman of Ashuganj Power Station Company; and Mahbub-ur-Rahman, head of HSBC's corporate banking in Bangladesh, were present at the deal signing ceremony.