Professor Khan Sarwar Murshid: My teacher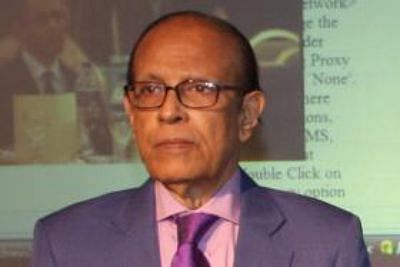 Professor Khan Sarwar Murshid
On December 9, through the internet edition of The Daily Star, I learned with great sadness in Sydney that Professor Khan Sarwar Murshid had passed away on December 8 in Dhaka. When I left Dhaka I knew that Professor Murshid was seriously ill and was admitted in a hospital. Hoping against hope, I thought that I would meet him in hospital or at his residence on my return.
A few years ago, he was kind enough to respond to my dinner invitation. I met him after almost 20 years, after he lost his wife and was broken-hearted. We talked about many things and I found him admirably agile and sharp in the analysis of social issues in the country.
An educationist, a free thinker and a writer, an ambassadorany role Professor Murshid took was carried out in a dedicated manner.
In 1955, I had the privilege of meeting him first when he was our teacher in the final year of Honours Class of English Department of the Dhaka University.
Professor Mushid just had returned from England after earning a Ph-D from Nottingham University on Nobel Laureate dramatist and poet W. B. Yates. From the very beginning, he caught our eye with his demeanour and his gentle approach towards students. He was not intimidating to students like other teachers. He was a soft spoken gentleman.
He had his own style of teaching and we were impressed. Wherever he went he made an impact on other people, and was able to win confidence, respect, affection and hearts of all kinds of people. He was a scholar and his comments on society were penetratingly analytical. His interpretation of social values is very liberal and enlightened. He was against any restraint on liberal thinking.
In ideas, he was ahead of his time and could see further through a brick wall than anyone else. He could get to the causes of a social problemnot only the obvious ones but also the hidden ones. He saw the end result of things as well as being able to conceptualise and fathom things as they were. He was the editor of the literary journal New Values between 1949 and 1965. He received the Bangla Academy Award in 2010 for his contributions to literature.
Professor Murshid was a great fighter for democracy and stood up against the martial law regime of President Ayub Khan in 1958. He suffered but never bowed to the regime of dictatorship. He could foresee that denial of democracy would one day disintegrate Pakistan.
He was one of the few individuals who predicted the birth of Bangladesh because of continuous neglect and exploitation of resources of former East Pakistan by the West Pakistani leaders and the lack of democracy in Pakistan.
His words came true in December 1971 when Bangladesh achieved its independence and sovereignty. It is interesting to note that a former chief justice of Pakistan, Justice Ajmal Mia, came to the same conclusion in 1998 as that of Prof. Murshid that martial law and absence of a democratic regime in Pakistan brought its disintegration. He was directly involved in the War of Liberation in 1971 and was a member of the Planning Commission of the Mujibnagar government in exile
Professor Murshid was a successful teacher and administrator. He was vice chancellor of Rajshahi University and had been courageous enough to stick to his principled views during that period..
He had a social conscience and fought for the victims of suppression and oppression, despite his busy occupation in the profession. He believed in the dictum "Knowledge is power," and that a productive community could exist only through knowledge.
He was a lover of books. His private library is one of the largest in the country. His books included philosophy, history, law, economics, and other related subjects. He was a collector of books and wherever he visited he bought them on a variety of subjects.
Professor Murshid was a great patriot, a man of great feelings, and brought an imaginative touch to any discussion. We desperately need a person like him in Bangladesh.
He passed away at the age of 88, and is survived by his two daughters and two sons. His wife, Nurjahan Mushid, a former state minister in the 1972 government, predeceased him.
We all pray to Allah for eternal peace for his soul. While extending our sincere condolences to the members of his family, we also hope they may have the courage and fortitude to bear this irreparable loss.
Finally let me quote Shakespeare from Henry VIII; "He gave his honours to the world again, His blessed part to heaven, and slept in peace."
The writer is a former Bangladesh Ambassador to the UN, Geneva.