Fiber to the Home Technology
Future of connectivity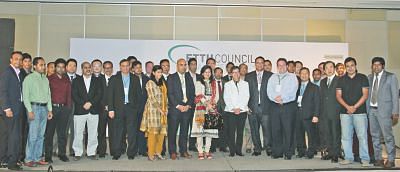 Fiber To The Home (FTTH) Council Asia Pacific, a nonprofit organisation, on Sunday organised a workshop on development of fiber infrastructure in Bangladesh.
With FTTH technology, premises are typically connected at 100mbps+ and can easily be increased to 1Gbps and beyond. As a result 'Triply Play' services, which are voice, video and data, can be carried through one single fiber to any premise.
Leading technology companies, ISPs, network service providers, mobile operators, Wimax operators, government regulators and other stakeholders like financial institutions, property developers participated in the workshop.
It brought together leading FTTH experts from abroad and local industries to share their experiences. It also offered a great networking environment while creating awareness of the FTTH technology and energising the technology market of the country.
The council's membership compromises of prominent technology companies and operators such as Google, Telkom Indonesia, Cisco Systems, Sumitomo, Fujikura, Huawei, Samsung, Sanko Advanced Components, Dura-line.
It organises seminars and workshops across the Asia Pacific region to bring together industry stakeholders and foreign experts to assist local markets.
It decided to hold the daylong workshop here as Bangladesh has made strong strides in the FTTH movement.
Hasan Munasir Choudhury, general manager of the FTTH Council Asia Pacific said "at the FTTH Council APAC Bangladesh workshop, we tried to develop a common platform where industry leading experts from all over the globe can share ideas and best practices with local counterparts to strengthen the FTTH deployment, ensuring sustainable solutions for the country."
Chairman of the Bangladesh Telecommunication Regulatory Commission Sunil Kanti Bose inaugurated the event. Md. Nazrul Islam Khan, secretary, ministry of ICT was also present as special guest.
FTTH Council Asia Pacific President Monique Morrow, Vice President Dr. Bernard Lee, Secretary Yoshihiro Ishibashi and Director Anil Pande along with many FTTH Council APAC delegates were also present.
Munasir later in an e-mail interview said that FTTH is a technology being deployed globally to provide high speed internet, video and voice service to customer premise using fiber optic cable.
"As our bandwidth requirement increases day by day and high definition contents, video on demand services become widely available; FTTH is the technology which is ready to cater such services requiring high bandwidth."
He also informed that Asia Pacific has seen the highest growth in deployment of FTTH with 58 million subscribers and it is expected to reach 140 million by 2015.
"The mission of the FTTH Council Asia-Pacific is to accelerate the adoption of optical fiber access by all consumers and organisations that provide and use broadband services. It provides factually based education and promotion in order to enhance the sustainable quality of life," he said adding that therefore they arrange workshops, seminars and conferences throughout the APAC region to promote FTTH technology, educate and create awareness.
"We have received a very positive response from Bangladesh. Apart from our foreign experts, we also had multiple presentations from local service providers who shared their experience with FTTH in Bangladesh."
Munasir said FTTH deployment is having an impact on the fixed network services in Bangladesh.
"We are finally getting to see structured underground networks, which may eventually eliminate overhead cluttered wires in the coming future. With FTTH, service providers can soon start to provide multiple services using single connectivity to the user premise. These FTTH networks will be the foundation for new local content services where data speeds will no longer be an issue."
"Bangladesh will continue to see growth in deployment of the FTTH network. From the regulatory perspective, the moment service providers are allowed to provide IPTV, HDTV, video on demand and other local contents, we will start to see more rollouts of FTTH network as there will be a high demand for accessing such services," he said.
FTTH is also environmentally friendly; there is no requirement of electricity between the service providers' equipment and the customer premise equipment.
"Imagine what an impact it will have in Bangladesh since we are facing challenge in the power generation sector."
When asked, he said FTTH networks are based on an architecture called PON (Passive Optical Network). Data is transmitted through light signals via the optical fiber from service provider equipment, which is known as OLT (Optical Line Terminal) and reaches to subscriber side by connecting to an ONT/ONU/Modem (Optical Network Terminal/Unit).
"In the PON based FTTH network all the accessories used between the OLT and the ONT/ONU and non-electric, as in the products are all passive. Thus, there is no requirement of electricity for this FTTH network between the OLT and the ONT/ONU/Modem."
Munasir said there are five challenges in FTTH network deployment, which they call 5 Cs- Competency: Manpower needs to be competent to deploy and maintain the network.
Construction: New guideline and best practices are required to deploy fiber up to the customer premises.
Customer Device: Up to date digital home equipment to fully enjoy benefits of FTTH.
Content: New content is needed to capitalise the additional speed offered.
Customer awareness: Customers are unknown of the new capabilities and potential of FTTH.
"Some of the challenges have been addressed in Bangladesh while there has been good progress on others. Over all, we expect to see a continuous growth in FTTH connectivity in Bangladesh," Munasir said.