Hillary sent on ME mission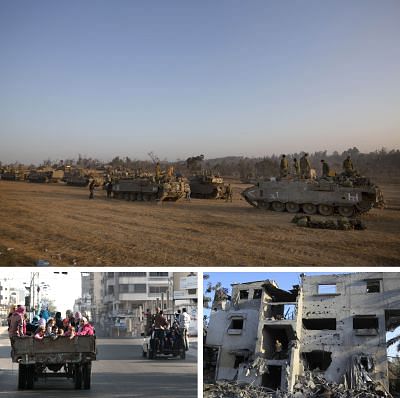 Hillary Clinton is en route to the Middle East to join efforts to broker a ceasefire in the war between Israel and Hamas, in a move that suggests a breakthrough is close, reports the Guardian.
The US secretary of state, who had been accompanying Obama on his visit to south-east Asia, left Cambodia yesterday for talks in Jerusalem, Ramallah and Cairo, where she will meet the Israeli prime minister, Binyamin Netanyahu, Palestinian officials and Egyptian leaders.
A White House spokesman said Clinton would make clear an escalation of the conflict would be in nobody's interest. The US, Britain and other western governments have urged Israel not to mount an assault similar to Operation Cast Lead, in which 1,400 Palestinians in Gaza were killed four years ago.
The Cairo truce talks ran into trouble on Sunday after news that 10 members of one family had been killed in Gaza in an air strike apparently aimed at killing a Hamas or Islamic Jihad leader.
Hillary will meet Israeli Prime Minister Benjamin Netanyahu in Jerusalem, Palestinian President Mahmoud Abbas in the West Bank and Egyptian leaders in Cairo, reports The Independent.
The Obama administration blames Hamas for the latest eruption of violence and says Israel has the right to defend itself. At the same time, it has warned against a ground invasion, saying it could send casualties spiralling.
Obama made the decision to send Clinton after speaking to Egyptian President Mohamed Morsi and Netanyahu late on Monday night, deputy national security advisor Ben Rhodes said.
"Secretary Clinton will emphasise the US interest in a peaceful outcome that protects and enhances Israel's security and regional security," Rhodes said, though stopped short of calling Clinton's trip a mediating mission.
News of Clinton's trip came as Israeli leaders yesterday discussed an Egyptian plan for a truce with Gaza's ruling Hamas militant group and after the death toll from Israeli raids on the enclave rose to more than 100, reports AFP.
Israeli sources made clear that a ceasefire deal would have to mean an end to all hostile fire from Gaza into Israel, including small arms fire at troops near the border. Hamas fighters must also be stopped from crossing into Sinai to mount attacks against Israel from Egyptian territory. Hamas must not be allowed to rearm. Any ceasefire must not be a simple "time out" for Hamas but provide an extended period of quiet for southern Israel.
Support for Operation Defensive Pillar remains solid in Israel. According to an opinion poll in the Haaretz newspaper, 30 percent of the Israeli public support a ground invasion despite the risk of high casualties. Overall the operation has the backing of around 84% of the public, with 12 percent opposed.
But in one sign of dissent, 100 writers, intellectuals and artists on Monday issued a petition calling for a long-term ceasefire, and more significantly for talks with Hamas, which has long been a political taboo. "We must speak out because the people of southern Israel, like the people of Gaza, deserve to be able to look up at the sky in hope and not in fear," wrote the author Amos Oz, playwright Yehoshua Sobol and others.