PM to visit Pakistan to attend D-8 summit
Dhaka seeks Pak apology for 1971 genocide; Hina for moving ahead turning back to the past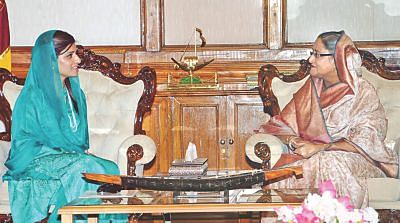 Prime Minister Sheikh Hasina has decided to pay a three-day official visit to Pakistan to attend the D-8 summit in Islamabad scheduled for November 22.
Hasina goes to Pakistan against the background of her government asking Islamabad to settle all pending post-independence issues. Dhaka has demanded an unconditional apology from Islamabad for the genocide Pakistan carried out during the Liberation War in 1971.
This will be Sheikh Hasina's first visit to Pakistan since she returned to power in 2009. She will leave on November 21 and return home on November 23 after taking part in the eighth D-8 summit.
She last visited Pakistan in 1998 in her first term as prime minister.
Press Secretary to the Prime Minister Abul Kalam Azad last night confirmed to The Daily Star that Hasina was going to Islamabad at the invitation of Pakistan President Asif Ali Zardari. The invitation was delivered to her by Pakistan's Foreign Minister Hina Rabbani Khar yesterday.
Azad said the Pakistani foreign minister handed over the formal invitation letter to Hasina at her Gono Bhaban residence yesterday afternoon.
Diplomatic sources in Dhaka consider Hasina's decision to visit Pakistan very significant as Dhaka and Islamabad have had strained relations for the last four years.
Official sources said her visit to Pakistan became uncertain after Khar postponed her scheduled visit to Bangladesh on October 25.
Following hectic diplomatic efforts, Khar arrived in Dhaka yesterday to hand over the invitation letter.
A special flight carrying the Pakistani minister landed at Shahjalal International Airport at 10:15am. Foreign Secretary Mijarul Quayes received her at the airport.
Before meeting Hasina, Hina Rabbani Khar met Foreign Minister Dipu Moni at the foreign ministry for 20 minutes.
During the meeting, Dipu asked Islamabad to settle pending post-independence issues, emphasising especially an unconditional apology from Pakistan for the genocide it had carried out during the Liberation War.
She said Pakistan should come forward in this regard.
Bangladesh sees an apportionment of pre-independence assets and liabilities and repatriation of stranded Pakistanis as pending issues with Pakistan.
During the meeting, Hina Khar reiterated that Pakistan had regretted its actions of 1971 on different occasions since 1974 and called for the two countries to move ahead together by turning back to the past, said Quayes quoting Hina Khar after the meeting.
The Pakistani foreign minister said Islamabad valued its relations with Dhaka and wanted to advance existing cooperation in the economic, political and cultural arena and through people-to-people contact.
She also spoke about her "personal commitment" to promoting bilateral ties and cooperation with Bangladesh.
Dipu Moni expressed similar views on expanding bilateral relations by settling unresolved issues.
Dipu presented Khar with a copy of "The Unfinished Memoirs" of the Father of the Nation, Bangabandhu Sheikh Mujibur Rahman.
Hina Khar also invited Dipu Moni to attend the meeting of council of ministers to be held prior to the D-8 summit.
The summit will be preceded by senior-official-level and foreign-minister-level meetings from November 19 to November 21.
After the meeting, Foreign Secretary Mijarul Quayes told reporters that the Pakistan foreign minister had appeared "sensitive" to the Bangladesh's legitimate concerns.
Quayes termed the visit of the Pakistan foreign minister important but not one too concerned with bilateral issues as she had come to hand over the invitation letter.
The meeting was not comprehensive but Bangladesh raised all pending issues, including the matter of an apology on the part of Pakistan for genocide in 1971, and other matters related to bilateral, regional and international issues of common concern, he said.
The foreign secretary said Bangladesh had stressed the need for settling the issues through regular holding of joint economic commission meetings and the establishment of a joint commission for foreign minister-level meetings.
Both sides pledged to inject fresh impetus to bilateral relations.
Quayes said all issues of bilateral concerns could be addressed at the joint secretary-level meeting. Before the secretary-level meeting, a director-general level meeting could take place.
Quayes said Bangladesh would again seek an official apology from Pakistan at one stage of such bilateral discussions.
Pakistan's former president, Gen Pervez Musharraf, who came to Bangladesh on July 29, 2002, visited the national memorial in Savar to pay homage. Earlier, in June 1974, Pakistan's prime minister Zulfikar Ali Bhutto visited the memorial, though he caused quite a stir by his inappropriate behaviour there. In 1985, President Ziaul Haq visited the national memorial and told Bangladesh's media persons, "Your heroes are our heroes."
Gen Pervez Musharraf wrote in the visitors' book at Savar: "Your brothers and sisters in Pakistan share the pain of the events of 1971. The excesses during that unfortunate period are regrettable. Let us bury the past in a spirit of magnanimity. Let not the light of the future be dimmed. Let us move forward together."
Quayes, on the D-8 summit, said it was important since the summit planned to adopt the charter of the group 16 years after its inception.
After meeting Dipu Moni and Hina Khar called on Sheikh Hasina at Gono Bhaban. Later, the Pakistani minister met opposition leader Khaleda Zia at her Gulshan home before leaving Dhaka around 3:30pm.
The D-8 consists of Turkey, Pakistan, Egypt, Iran, Bangladesh, Nigeria, Indonesia and Malaysia. The second summit of the group was held in Bangladesh in March, 1999.