BNP observes November 7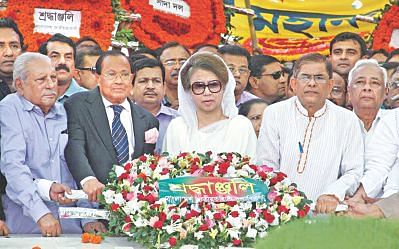 Main opposition BNP yesterday observed, amid elaborate programmes, the "National Revolution and Solidarity Day" marking the civil-military "uprising" that led to release of the then army chief Ziaur Rahman in 1975.
The programmes began with hoisting of the party flag in front of the party's head office.
BNP Chairperson Khaleda Zia placed a wreath on the grave of late president Ziaur Rahman.
On the occasion, the party's acting Secretary General Mirza Fakhrul Islam Alamgir stressed the need for rising again with the spirit of November 7 against the "autocratic" government.
Meanwhile, Jatiya Samajtantrik Dal (JSD) observed the day as the "Civil-Military Uprising Day".
Marking the day, JSD organised a discussion at the party's head office in the capital.
Presiding over the discussion, Hasanul Haq Inu urged the democratic forces to remain united to foil any conspiracy against the country's democratic progress.
Meanwhile, other political parties and different social organisations observed the day from different historical perspectives.
Bangabandhu Sangskritik Jote and Jatiya Gonotantrik League observed it as the day of "killing of an army officer and soldier who fought in the Liberation War".
JSD and Bangladesh Chhatra League formed a human chain at Dhaka University's Aparajeyo Bangla demanding trial regarding the murder of Col Abu Taher.