Yash Chopra: The King of Romance bows out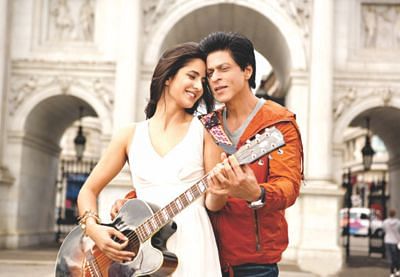 Indian filmmaker Yash Chopra, also known as the "King of Romance" passed away on October 21, leaving a void in Bollywood which will be difficult to fill. Be it bold films on themes like illegitimacy "(Dhool ka Phool"), polygamous relationships ("Daag"), adultery ("Silisila"), or out and out romantic films ( "Dil to Pagal Hai", "Veer-Zaara", for example), he had a unique touch typified in what has come to be known as the "Yash Chopra style'. That term embraced films that were heroine-oriented, romantic, emotional, while depicting the lavish lifestyle of the elite with unforgettable songs and scenic foreign locations.
Switzerland was his favourite location, which is where his last film "Jab Tak Hai Jaan" (2012) starring Shahrukh Khan, Katrina Kaif and Anushka Sharma was shot. That was supposed be his last directorial venture, as he had announced his intention to focus on his production company and his family. His death due to dengue left some question marks on the fate of the title song of the film.
However, the song is now to be used as the end titles of the movie start rolling. The song will have visuals with vignettes from the film's shooting. This decision was taken between Chopra's son Aditya Chopra and Gulzar, the film's lyricist. The triangular love story is to be released mid-November after a grand premiere.
Chopra's films proved the launching pad for Amitabh Bachhan who derived his image as the "angry young man" from cult classics such as "Deewar" and "Trishul". These films were scripted by the famous Salim-Javed combine. Bachchan also starred in Chopra's romantic dramas, "Kabhie Kabhie" and "Silsila". In the latter film, inspired by Chopra, Akhtar launched his career as a lyricist.
Other films such as "Chandni" and "Lamhe" were also important milestones in Chopra's eventful career. The success of "Chandni's" music was in fact instrumental in ending the era of violence in Bollywood and bringing music back to Hindi films.
Chopra's unmistakable talent won him many awards, notably the Dadasaheb Phalke Award in 2001 and the coveted Padma Bhushan in 2005 for his contribution to cinema.
Compiled by Correspondent