Herbal Garden Opens in Rangamati
'Protect culture of <i>jumma</i> people'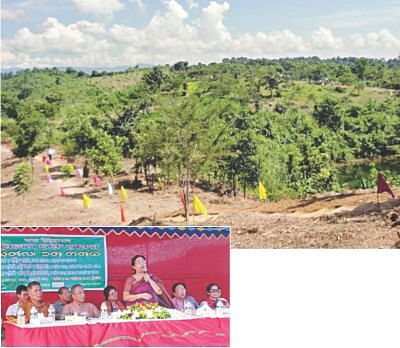 Speakers at a programme marking inauguration of a herbal garden in Rangamati Sadar upazila yesterday emphasised protecting the environment and traditional culture of the jumma people for development of the community as well as overall interest of the whole country and its people.
With support from Manusher Jonno Foundation, Centre for Integrated People's Development (CIPD), a local non-government development organisation, arranged the programme.
Shaheen Anam, executive director of Manusher Jonno Foundation (MJF), inaugurated the herbal garden named 'Murolya Daru Tarum' developed by CIPD on 15 acres of land at Goboghona in Moghban union under Rangamati Sadar upazila.
"The indigenous boidyas (healers) in hills will get the opportunity to provide better treatment to backwoods people as hundreds of species of different medicinal plants will be available from the garden," Shaheen said in her speech as the chief guest.
"The traditional healers will get the opportunity for skill development through research work on herbal medicines and it requires a long term plan involving the people concerned," she said.
Urging all to remain alert about the violators of human rights in Chittagong Hill Tracts (CHT) and build up social movement against the evil force, Shaheen said the indigenous people must be united for full execution of the CHT peace accord.
Since time immemorial, the indigenous healers have been playing a very significant role in providing treatment to people, mostly living in rural areas. But the traditional healing community sees decline due to lack of herbal medicines and proper practice," said Ushatan Talukder, member of CHT Regional Council.
"We have to conserve the herbal medicines available in the hills. We have to give importance on growing and creating bamboo clusters too," he added.
He thanked Manusher Jonno Foundation for coming forward for the welfare of the hill people.
Nirupa Dewan, member of National Human Rights Commission, was also a special guest at the function presided over by Jana Lal Chakma, executive director of CIPD.
An indigenous cultural function was arranged on the occasion.