Durga Puja festivities
Chanchal Chowdhury returns to his roots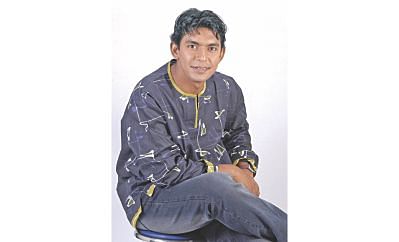 Chanchal Chowdhury was born and raised in Kamarhaat village, Pabna district. He came to Dhaka for studies, and made a name for himself as an actor. The star, however, has not forgotten his roots, and returns each year to his village during Durga Puja.
This year is no different. Chanchal will spend a week at his village home during the festivities, and has already cleared out his shooting schedule. "With Eid and Puja so closely spaced this year, I've finally gotten a decent break at home," said the actor.
In the Kamarhaat village, five houses privately arrange Puja festivities on a grand scale. Big celebrations are held at Chanchal's sister's house and their maternal uncle's home. The actor says, "Our village is very small. We make all the preparations for Puja."
Childhood Puja celebrations meant the joyous anticipation of wearing brand new attire, says Chanchal. The actor says the feeling of elation reached its peak during his school days. The entire year was a wait for Durga Puja, he adds.
However, such feverish excitement has faded with age, and been replaced by the excitement of a reunion of relatives and close friends during celebrations.
Chanchal informs that his village is secular, with both Muslims visiting Hindu houses during Puja, and Hindus sharing the joys of Eid with their Muslim friends. The communal harmony has always made Kamarhaat a special place for Chanchal.
Chanchal also mentioned a commendable effort by his father during Durga Puja. "My father sets up a pavilion, where the destitute can come and receive free medical attention from my wife, my brother and his spouse -- all of them are doctors. The service is offered for free during all the Puja days, and my father supervises the exercise and hands out free medicine. Both Hindu and Muslim villagers are welcome to receive medical attention."
With Eid and Puja set side by side this year, an Eid get-together has also been arranged at Kamarhaat, where Brindabon Das and Shahnaj Khushi will visit. On Eid-ul-Azha, BTV will air "Jochhna Raat" written by Brindabon and featuring Chanchal in a lead role. Desh TV will also air a five-episode special "Pataal Purir Golpo" while Ekushey will telecast "Love Rashid" where Chanchal plays the eponymous role.
The actor adds that half a dozen of his dramas will be aired this Eid.