Drama at BAU
BCL men join teachers' human chain against leftist student bodies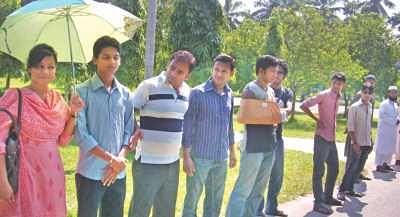 Nothing seems to going for the pro-left students of Bangladesh Agriculture University, who are protesting at the university's more than tripling the admission fees.
Yesterday, they saw activists of Bangladesh Chhatra League university unit, widely blamed for attacking left-wing students on campus on October 9, and members of the probe body, investigating a teacher's assault on a left-leaning student, join hands with BAU Teachers' Association.
All three groups yesterday formed a human chain to protest what they called "pro-left students' misbehaviour with teachers".
The members of the probe body, whose mandate was to investigate the incident of university proctor punching a female student during the October 9 violence, joined yesterday's human chain raising questions about a fair probe.
BAU unit Samajtantrik Chhatra Front General Secretary Kishore Ahmed told The Daily Star, "As the probe body chief and its members joined the programme organised against us, we are very doubtful about a neutral probe."
Chhatra Front and Chhatra Union form part of a progressive students' combine that has been waging the movement against the admission fee hike.
After the media published photos depicting Proctor MA Salam punching a female student during students' protest against the fee hike, the education ministry asked the university to form a probe body.
On the very first day of the probe body, its head Prof Abdur Rahman Sarker, who is also the BAU Teachers' Association president, became controversial by making apparently biased remarks in the proctor's favour.
Prof Abdur Rahman was replaced in the probe body the following day by Prof Ali Akbar.
And Prof Ali Akbar yesterday with two of his probe body colleagues joined the human chain. They spent a good chunk of the three-day time they have to probe the incident forming the human chain.
The rally was led by none other than Prof Abdur Rahman Sarker, the former probe body chief.
Asked about the matter, university Vice-Chancellor Prof Md Rafiqul Hoque claimed that as teachers, the probe body members could join such programmes and it would not affect the investigation.
A group of university Chhatra League men including its President Shamsuddin Al Azad and General Secretary Rafiquzzaman Emon joined the teachers' association human chain.
Azad and Emon addressed the rally there too.
Asked why they joined a teachers' association programme, Emon said, "We joined it to express our sympathy to our respected teachers who were victims of misbehaviour by a section of students."