First Bangladesh made warship launched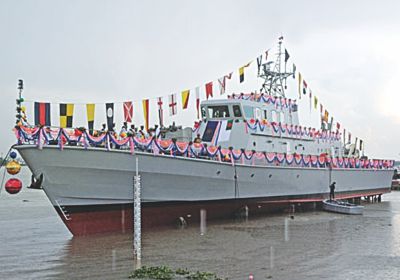 The first-ever warship built by Bangladesh was launched by Foreign Minister Dipu Moni through a ceremony at Khulna Shipyard yesterday.
The warship, categorised as a patrol boat, was built by Khulna Shipyard at a cost of Tk 58 crore and will be handed over to Bangladesh Navy in December.
With a cruising speed of 18 nautical miles and a maximum speed of 23 nautical miles, the 255 tonne patrol boat is equipped with two 37 mm and two 20 mm guns capable of taking down aircrafts and ships.
Moreover, the 50.4 by 7.5 metre patrol boat can be at sea with 31 crew members for one week at a stretch without docking.
The patrol boat is among five Khulna Shipyard is constructing for Bangladesh Navy at a cost of Tk 288 crore, scheduled to be handed over by mid 2013. China Shipbuilding Offshore Company is supervising the construction and providing the designs and materials.
Khulna Shipyard signed the construction contract with Bangladesh Navy on May 2, 2010 and Prime Minister Sheikh Hasina inaugurated the construction on March 5, 2011.
Addressing the ceremony as chief guest, Dipu Moni said with increasing demand for ships in the global market, Khulna Shipyard will hopefully be able to construct and export more ships with Chinese assistance.
Chief of the Naval Staff Vice Admiral Zahir Uddin Ahmed, local lawmakers and high civil and military officials were present at the ceremony.