Erosion threatens Mawa terminal, parking yard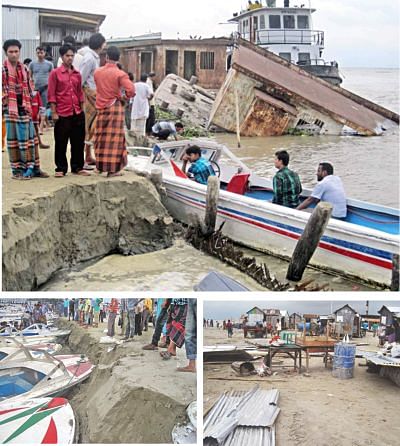 Erosion by the river Padma has taken an alarming turn in Louhajong upazila of Munshiganj, putting the newly built Mawa launch terminal and parking yard on the verge of collapse
Badiul Alam, assistant port officer at Mawa, said at least 25 to 30 feet area in the western part of the parking yard has developed cracks and may collapse anytime.
"We have kept speedboats in a line and are dumping sand bags at that point to protect the parking yard temporarily from onslaught of the river." he said.
It is widely alleged that mindless sand lifting from the river has triggered serious erosion in the area.
At least six business establishments adjacent to the launch terminal and parking yard went into the river and 10 others were shifted to other places yesterday morning.
Contacted, Louhajong Upazila Nirbahi Officer Md Saiful Islam said he informed the authorities concerned of the matter and urged them to take necessary steps to protect the terminal and parking yard.
The terminal and parking yard were built at a cost of Tk one crore and Shipping Minister Shahjahan Khan formally opened the both in May this year.