A 'new high' with China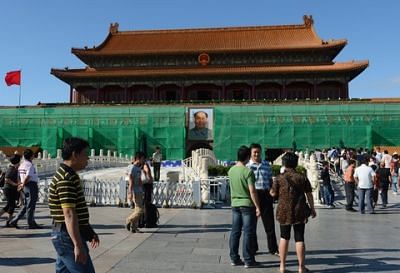 Widely circulated British weekly The Economist (September 8th-14th 2012 issue), in a story titled "Troubled Waters," observed: "Western governments do not want to see it (Padma Bridge project) snapped up by a state-backed Chinese company ... and that India with which Bangladesh has had good relations, would do its best to block a high profile Chinese involvement in its neighbour's economy."
The Chinese Ambassador to Bangladesh Mr. Li Jun in a recent meeting with newspaper editors said: "China holds an active attitude in resuming the loan of the World Bank, and has done a lot of work inside the Work Bank ... ." So, the Western apprehensions about China are a little watered down there.
It is worthwhile to note though, Finance Minister A.M.A. Muhith stayed beyond his 10-day trip to Beijing to meet his Chinese counterpart Mr. Xie Xuren to seek Chinese support for the Padma Bridge. Last July, Chinese company Spare Energy Creations Australia Pty Ltd (SECA) had submitted a proposal for building the 6.15 kilometre long Padma Bridge on build-own-transfer (BOT) basis according to the existing design within three years. China proposed to bear 70% of the cost.
One wonders why the West and India would begrudge Chinese cooperation in Bangladesh's infrastructure building? They have not done so in the past; why must they do it now?
As it is, Chinese involvement in Bangladesh's development is fairly substantial. Beijing has invested $ 250 million in Bangladesh between 1977 and 2010. This figure is topped up by $ 200 million in a single year 2011.
The accumulated Chinese lending to Bangladesh is worth around $ 358 million and grant around $ 242 million (of which $ 69 million was used for construction of friendship bridges).
Specific Chinese investment in the pipeline includes $57.52 million in Uttara Export Processing Zone for manufacturing collectable items including toys and a plant to produce cellphone sets by Chinese Phoenix group.
High cost of Chinese labour at a minimum of $ 500 per month is impelling many of their companies to relocate their factories to neighbouring countries to stay competitive in the international market. Bangladesh is a favourite destination for Chinese investment in RMG products. "Plenty of cheap labour" at $ 37 per month which is being touted as an advantage should be taken with a pinch of salt. For, our hard-pressed RMG workers do need fair wages and good working conditions that are far from exploitative. Chinese should know better. At the same time, our infrastructure would have to be vastly improved for which China itself can come in a bigger way.
Prime Minister Sheikh Hasina made a visit to China in September 2011 seeking $ 2.2 billion for infrastructure project including Second Padma Bridge, Jamuna Railway Bridge, Karnaphuli Tunnel, rail link with Myanmar and a fertiliser factory.
The rail link with Myanmar has been dropped at the instance of Yangon while the road project linking Kunming in Western China with Bangladesh and Myanmar, is on the table. The tension between Bangladesh and Myanmar centering around persecution of Rohingyas and their statelessness needs to be defused to revive the project of dual connectivity through railways.
Principally at issue is the Chinese offer of assistance to build the Sonadia deep seaport off the Chittagong coast. Going by The Economist article in question, the West and India may be apprehensive of China in return for involvement in Bangladesh asking for "an equity stake and economic influence as has happened with ports in Sri Lanka and Pakistan." The pointers are towards Gwador in Pakistan and Hambantota in Sri Lanka, and implications more geo-political than economic.
By some indications, China wouldn't mind multilateral participation in building up the Sonadia deep seaport for Bangladesh. China's outlook is changing, so what stops Bangladesh from proceeding towards getting a deep seaport in not too distant a future?
Certain immutable factors need to be taken into account while forming any rational and fair judgment on issues of bilateral, sub-regional, regional (both intra and inter) and multilateral engagements: First, both India and China are countries in the neighbourhood intertwined geographically and topographically. Bangladesh has to deal and cooperate with them in order to fulfill its far-reaching developmental goals. Secondly, both are emerging global economic powerhouses with features of developing countries in common with Bangladesh. They have their respective strengths and complementarities which Bangladesh can benefit from. It does not necessarily have to be one-way traffic because wider connectivity brings dividends to all parties in the embrace. Finally, a sovereign country is entitled to different pairs of bilateral relationships without prejudice to one another or sub-regional, inter-regional and multilateral cooperation and connectivity arrangements it may choose to foster.
Most of all, India stands to benefit from a prosperous and stable Bangladesh. And if China does value addition to Bangladesh's economy, this should not in anyway give cause for concern to India. It is indeed in Bangladesh's long-term interest to grow with the two economic giants straddling her frontiers.
The writer is Associate Editor, The Daily Star.
E-mail: husain.imam@thedailystar