Abdul Matin Chowdhury passes away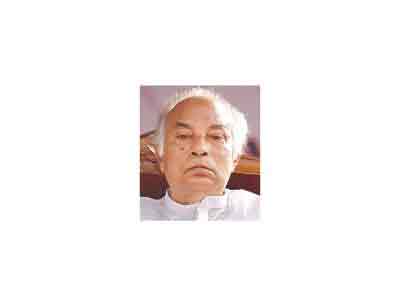 Former home minister and BNP leader Abdul Matin Chowdhury died of old-age complications at a hospital in the capital yesterday.
He was 78. A confirmed bachelor, he left behind his relatives, political colleagues, and well-wishers to mourn his death.
He breathed his last at Monowara Hospital around 10:15am. He had been fighting against various diseases since he suffered a severe brain haemorrhage in 2002.
Family sources said Matin was admitted to the hospital two months ago due to deterioration in his health.
His body will be buried today at his family graveyard in Rupganj of Narayanganj district.
Hearing the news of his demise, BNP leaders including acting secretary general Mirza Fakhrul Islam Alamgir rushed to the hospital.
His first namaz-e-janaza was held in front of BNP central office at the city's Nayapaltan yesterday afternoon.
His second namaz-e-janaza will be held at the South Plaza of the parliament complex at 11:00am today.
BNP Chairperson Khaleda Zia and acting secretary general Mirza Fakhrul Islam Alamgir expressed their deep shock at the death of the veteran leader.
Khaleda also visited Matin's residence in the evening and consoled his family members.
Speaker Abdul Hamid and Deputy Speaker Shawkat Ali also expressed deep sorrow at the death of Matin Chowdhury.
Born in Rupganj in 1944, Matin was involved with BNP since its inception in 1978 and was elected as parliament member for four times.
He was the home minister in Khaleda's cabinet during the 1991-96 tenure and later in 2001 was made the textiles minister during the BNP-led four-party alliance's rule.
The former Muslim League leader had been a member of the BNP's standing committee from 1991 to 2008.