Financial Times Exclusive
Real reasons to cheer on Bangladesh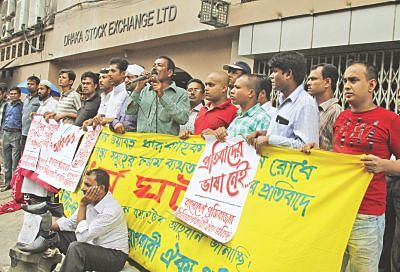 Bangladesh looks like the kind of frontier market that gives frontier markets a bad name. In 2010, the Dhaka stock market was one of the best performing in the world.
"It was doing $200 million [turnover] per day," said Patrick Nelson, head of equities at Exotix, a frontier markets investment banking boutique. "For a frontier market, that's amazing."
But in 2011, the Dhaka market plunged, wiping out 2010 gains. Photos of investors being contained by riot police outside the stock exchange paint a picture few would be in a rush to buy. And yet, the turmoil is in some ways misleading.
"The volatility of the stock market contrasts with the relative stability of the economy," said Ifty Islam, managing partner at Asian Tiger Capital Partners, a local investment banking boutique.
Through the stockmarket turmoil, GDP growth in Bangladesh stayed at around 6 percent, and the International Monetary Fund (IMF) predicts a growth rate of 5.9 percent for 2012. Considering that Bangladesh has a population of 160 million and counts among the 30 largest economies in the world if you include the informal economy, according to Iraj Ispahani, chief executive of Ispahani Advisory, that adds up to a lot of potential.
"The stock exchange is a very narrow indicator of investment in Bangladesh," said Ispahani. "85-90 percent of wealth in Bangladesh is held privately."
In fact, the Bangladeshi economy weathered the global economic crisis better than most countries in the region, while the stockmarket, however, dizzyingly it may have see-sawed, has been a model of non-correlation.
"Bangladesh is one of the least correlated stock markets, both with the S&P 500 and other frontier markets," said Islam. "It's a very attractive diversification play."
One reason for this is that investment in the Dhaka Stock Exchange is overwhelmingly local. Only 2-3 percent of the stockmarket is held by foreigners down from about 30 percent in 1996-97.
"They missed the rally and they missed the crash," said Islam.
This strong local bias was part of the market's undoing in 2011. In the boom years of 2007-10, Bangladeshi banks, which were allowed to invest 10 percent of their liabilities in the stockmarket (much more than the international norm), piled into local stocks. Mesmerised by resultant price rises and often not that financially literate, retail investors piled in too.
Retail stockmarket accounts rose from 500,000 in 2007 to 3.5 million in 2010, according to Islam.
Cue rising inflation and central bank tightening, including stricter limits on stockmarket investment by banks. The banks had to scale back their investments, and daily trading plummeted.
"The retail people got burned," said Nelson of Exotix.
Now there is some calm after the storm. Inflation has fallen from 12 percent last year to 9 percent and the currency has stabilised, said Stuart Culverhouse, chief economist at Exotix. Bangladesh has also secured a $987 million loan from the IMF to help it overcome macroeconomic pressures and build a reserve buffer.
"The IMF programme is reassuring a lot of foreign investors," said Culverhouse.
At the same time, the lot of ordinary Bangladeshis, particularly women, is, in broad terms, improving, creating a domestic driver of growth.
Women are the mainstay of the garment industry which accounts for about 80 percent of Bangladesh's exports, and rural women have benefited from microcredit offered by Grameen Bank, a community development bank, said Ispahani.
"A substantial and entrepreneurial middle class is emerging," he said. "Employment is high, and there is unusually strong participation of women in the economy."
It is not all rosy, however. The "China relocation effect" that Islam said will underpin investment opportunities over the next five to 10 years relies on extremely low wages the minimum monthly wage for garment workers in Bangladesh is the lowest in the world for such work, according to trade unions.
So does the related "Walmart effect", whereby Bangladesh did not suffer as much from the global downturn as other countries in the region because its garment makers supply cheap retailers, such as Primark and H&M.
Ongoing diversification into industries such as pharmaceuticals, engineering and shipbuilding may help boost living standards as well as deepen the stockmarket, though Nelson notes that "we have yet to see land being appropriated by big international investors".
Planned infrastructure projects worth $35 billion, which cannot be financed internally, may also create investment opportunities.
Certainly, foreign investors, such as mutual funds, are starting to look more closely at Bangladesh, though as yet it is more of a trickle than a flood. Last year, funds globally allocated $4.8 million to Bangladesh, according to EPFR Global, and they have allocated just $0.51 million so far this year.
Ispahani believed "the excitement about Myanmar" may help change that. "The more people look at Myanmar, the more they will realise there is this neighbour [Bangladesh] that has a better macro environment and a better framework for investors," he said.
If they do, they will find only limited investment opportunities, particularly on the fixed income side, said Culverhouse. Bangladesh has not yet come out with a sovereign eurobond, though Culverhouse believed such a product "would be well received".
But Islam expected this situation to change and fairly quickly.
"About 65 percent of corporate Bangladesh is not listed, but quite a few companies are thinking of an IPO," he said.
"Appetite for risk capital is also growing, so there will be a lot more private equity opportunities."
The challenges are many and include a 2013 election in this "messy, confrontational democracy". Islam nonetheless expects foreign investment on the Dhaka Stock Exchange to rise to 8-10 percent over the next 18-24 months. This, along with rising investment by local asset managers, should both counterbalance reduced exposure to stocks by banks and provide some much-needed cool heads. "The market is institutionalising," said Islam.
Source: The Financial Times, London