Humayun Ahmed at a glance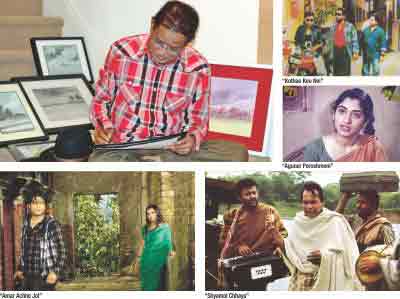 Born: November 13, 1948
Birth Place: Kutubpur, Mymensingh
Parents: Foyzur Rahman Ahmed and Ayesha Foyez
Occupation: Writer, filmmaker
Education: PhD in Polymer Chemistry, North Dakota State University
Genres: Novel, short story, drama, screenplay, autobiography, column
Subjects: Magic realism, social life, mystery
First novel: Nandito Narokey (1972)
Notable work(s): Nandito Naroke, Shonkhonil Karagar, Ayomoy, Kothao Keu Nei, Mayurakkhi, Kobi, Janom Janom, Ami-i Misir Ali, Himu, Shubhro, Jyotsna O Jononir Golpo, Modhyanho and Megh Bolechhe Jabo Jabo
Influences: Rabindranath Tagore, Ahmed Sofa
Early life: Ahmed went to many schools in Sylhet, Comilla, Chittagong, Dinajpur and Bogra as his father lived in many places upon official assignment. He passed the School Certificate (1965) from Bogra Zilla School. He stood second in the merit list in the Rajshahi Education Board. Later he enrolled in Dhaka College and subsequently in Dhaka University to study Chemistry. He passed both BSc (Honours) and MSc with First Class. He joined Dhaka University as a lecturer of Chemistry. Later he went to North Dakota State University in the United States to study for PhD.
Television and films: The TV serials, "Eishob Din Ratri", "Bohubrihi" and "Ayomoy", based on his books, made Ahmed hugely popular. He directed films based on his own stories. His first film "Aguner Parashmoni", on the Liberation War, won the National Film Award in eight categories.
Literary style: Humayun Ahmed distinguished himself with a unique simple literary diction that quickly became popular.
Death: After a nine-month struggle against colorectal cancer, he died at Bellevue Hospital in New York on July 19, 2012.
Compiled by Correspondent