<i>The lights go out</i>
Humayun Ahmed (1948-2012)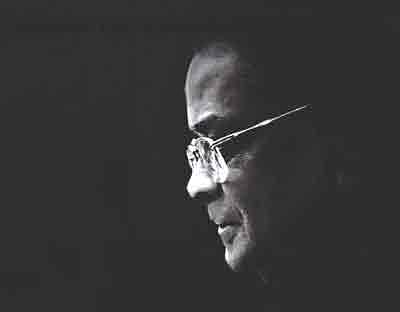 Popular writer Humayun Ahmed is no more. Aged 64, he died while undergoing treatment for cancer at a New York hospital last night.
His wife Meher Afroz Shaon and younger brother Professor Muhammed Zafar Iqbal, a reputed writer himself, were present when he breathed his last at Manhattan's Bellevue Hospital at around 11:20pm Bangladesh time.
The eldest among three brothers and two sisters, Humayun was also a renowned filmmaker and dramatist. He went to New York on September 14 last year after being diagnosed with colon cancer during a routine check-up in Singapore.
He had received chemotherapy in 12 cycles at Memorial Sloan-Kettering Cancer Centre in New York before he returned to Bangladesh on May 11 to spend time with friends and relatives for 20 days.
Back in New York, he underwent two surgeries last month. After the second surgery, he was infected with a virus unknown to the doctors, which spread through the body.
A pall of gloom descended soon after the news streamed into the country and across it.
A former associate professor of the chemistry department of Dhaka University, Humayun came into prominence after the publication of his first novel, Nondito Noroke, in 1974.
President Zillur Rahman, Prime Minister Sheikh Hasina and Leader of the Opposition Khaleda Zia have expressed deep shock at the death of Humayun.
In his condolence message, President Zillur Rahman said the creative works of Humayun Ahmed would remain immortal in Bengali fiction. The president prayed for the eternal peace of the departed soul and conveyed his sympathies to the bereaved family, reported BSS.
Prime Minister Sheikh Hasina said Humayun's death was an irreparable loss to the nation. People will always remember him fondly, the prime minister's special assistant (media) Mahbubul Hoque Shakil quoted her as saying last night.
BNP Chairperson Khaleda Zia prayed for the salvation of the departed soul and expressed her deep sympathies for the littérateur's bereaved family members.
Humayun emerged as a powerful voice in Bangladesh's literary world in the early 1970s, eventually becoming clearly the most popular writer of the country.
Nicknamed Kajol, the writer was born in Kutubpur village of Netrakona on November 13, 1948, to Fayzur Rahman Ahmed, a police officer, and Ayesha Fayzur. His father, who was also a writer, was murdered by the Pakistan occupation army and its local collaborators during the Liberation War in 1971.
Another brother of Humayun Ahmed, Ahsan Habib, is a painter and editor of Unmad, a cartoon magazine.
Humayun married Gultekin, granddaughter of Principal Ibrahim Khan, in 1973. The couple divorced in 2003, with the writer subsequently marrying television actress Shaon.
Humayun had his schooling in Sylhet, Comilla, Chittagong, Dinajpur and Bogra owing to his father's postings in these towns. He passed the School Certificate examination as a student of Bogra Zilla School.
A few months ago, Humayun Ahmed was appointed special adviser to the Bangladesh permanent mission at the United Nations by the government.
He continued writing during his stay in New York for cancer treatment.
Humayun retired as a Dhaka University teacher in the mid-1990s to devote himself to writing and making films and television dramas.
His first film, "Aguner Parashmoni", based on the Liberation War, won the National Film Award in eight categories, including Best Picture and Best Director.
Humayun won the Bangla Academy Award in 1981 and the Ekushey Padak in 1994. His first award was Lekhak Shibir Prize in 1973.
(Earlier report on Arts and Entertainment)