Philippines to charge ex-president for graft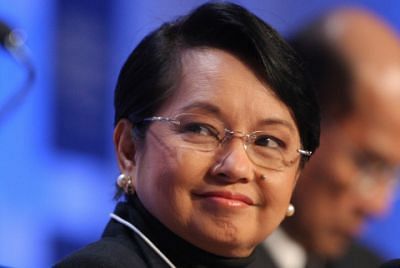 The Philippine government ombudsman called for graft charges to be filed against former president Gloria Arroyo yesterday for alleged diversion of state lottery funds in the latest accusation to hit her.
Arroyo remains confined in a government hospital while facing charges of vote-rigging.
Ombudsman Conchita Carpio Morales, whose office is in charge of investigating government officials, called on an anti-graft court to file "plunder" charges against Arroyo and nine other government officials.
In a statement, the Ombudsman said it had found Arroyo, 65, and the others, mostly former state lottery officials, had diverted about 366 million pesos ($8.7 million) in lottery funds from 2008 to 2010.
"The respondents' series or combination of acts form a pattern... of misuse and raid of (lottery funds) from 2008-2010... all while taking advantage of their respective official functions," the statement said.
It did not say what became of the money but Arroyo critics have alleged that it was used in the 2010 presidential and legislative elections.
If convicted of the crime, Arroyo, who stepped down in 2010 amid charges of graft and manipulating elections, could face 20 years in jail.
Arroyo's lawyer Anaceleto Diaz said the new accusation was devoid of merit, adding it was "another dark day for the rule of law".
He said in a statement it was just part of a campaign that President Benigno Aquino had been running against Arroyo, his chief political opponent.
Aquino, who was elected in a landslide in 2010, has long accused Arroyo of massive corruption and other abuses of power and has declared his intention of seeing her jailed.
Arroyo, who was in office for nearly a decade, was arrested late last year on charges of allegedly rigging the 2007 senatorial elections.
She also faces charges of approving an allegedly anomalous contract to set up a national government broadband system.
Arroyo, who was elected to Congress in 2010, is confined in a government hospital while suffering from what she says is a rare spinal disease.