Civil-military cooperation can protect democratic institutions
Speakers tell roundtable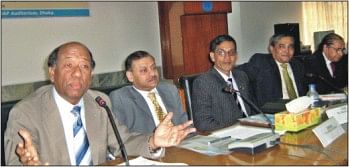 Lt Gen ATM Zahirul Alam yesterday said the military never wants to go back to martial law as was evident in the past, rather it wishes to reduce its gap with the civilians and make its role more transparent.
He was speaking at a roundtable titled 'Bridging gap between civil and military through language' organised by Dhaka Language Club
at Cirdap auditorium in the city.
Lt Gen Alam said what the military did is something innovative.
The gap between the military and the civilians has now reduced to a great extent, he said, adding that the army had to intrude into the civil administrations in many cases as in Chittagong Hill Tracts, but its reasons were not explained properly.
There was much tension about it, but now it has come down, he said, adding, "It is now understood that we complemented each other."
Lt Gen Alam said there are also changes in the military, the level of education in the army is now high and their language and mindset are also changing.
Even the subjects like democracy, development and environment have been included in the syllabus of the military education, he added.
He proposed the formation of a forum like National Security Council where politicians, representatives from civil society, military and bureaucracy will share their ideas on national security and development issues.
Speaking as chief guest Foreign Adviser Dr Iftekhar Ahmed Chowdhury said greater cooperation between the civilians and military can play important role for the development of a nation.
The Bangladesh army is also working with the civilians in some African countries, he added.
"Today in Bangladesh, our military leadership is increasingly becoming more conscious to develop its outreach to build better communication bridges in the area of their operations," Dr Iftekhar said.
Interactive seminars by think tanks can also bring military and civilian stakeholders closer to each other, he noted.
Prof Dr Ataur Rahman of Dhaka University said a nation can end when her military and people stand against each other.
"We must, therefore, be cautious so that no such notion is created, rather the gaps that we have must be reduced," he added.
Dr Rahman said there should be some form of structural arrangement where the army and civilian stakeholders can play a role in protecting the democratic institutions.
Air Commodore Mahmud Hossain said military is becoming greater proponent of human security and re-constructing its language to suggest its empathy with the society at large in areas demanding a focus upon non-traditional threats and development studies.
Director of Bangladesh Institute of Law and International Affairs (Bilia) Wali-ur Rahman said the civilians are discarding their suspicion because they realise that the national army will assist them in crises like floods and typhoons.
"Since it is not 1972 or '76 or '81, they cannot go wrong. The nation is proud of the armed forces for their patriotism along with the politicians and `civil society leaders," he said.
Barrister Tania Amir said there is actually no need for integration of the military into civilians. Their roles must be separate, but surely they can come together for the issues like human security, the basic rights of the citizens.
Southeast University Vice-Chancellor Dr Shamsher Ali, Maj Gen Aminul Karim, BSS Managing Director Zaglul Ahmed Chowdhury and Amader Somoy Editor Nayeemul Islam Khan also spoke at the discussion chaired by Dhaka Language Club President Masud A Khan and moderated by former state minister for foreign affairs Abul Hasan Chowdhury.