The golden days
Two albums by veteran singer Zeenat Rehana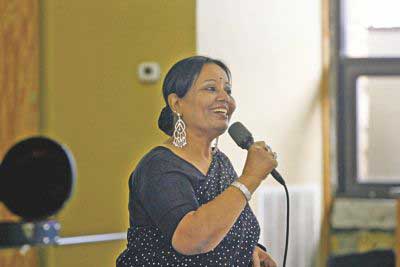 To re-popularise the timeless film songs originally recorded by the late singer Anjuman Ara Begum, noted singer Zeenat Rahana has taken an initiative to record 11 songs, in a CD. Under the title "Shoroner Prantorey", Laser Vision has produced the album.
One of the covered songs is "Tumi Ashbe Boley Kachhey Dakbey Boley". Syed Shamsul Haq wrote the lyrics while Satya Saha composed the tune.
Originally featured in the films "Abirbhab", "Santan" and "Aaina O Oboshishto", Zeenat covered several hit songs like "Saat Ti Rong-er Majhey Ami Mil Khujey Na Pai", "Akasher Haath-e Achhey Ekrush Neel", "Aai Rey Aai Ghum Aai" and "Khokon Sona Boli Shono". Gazi Mazharul Anwar wrote the lyrics while Satya Saha composed tunes for the songs.
With lyrics by KG Mostafa and tune by Robin Ghosh, the title song "Ke Shoronero Prantorey" of the album belongs to the film "Notun Sur".
The album also features an Urdu song "Chandni Bheegi Bheegi Hawa".
Lyrics by Suroor Barabankvi and tune by Robin Ghosh, the song was featured in the film "Chanda". Reflect Media Communication Limited has sponsored the album.
"I feel fortunate that I could record the timeless songs of Anjuman Ara Begum. I have put in much effort to present the songs to the audience once again. I hope they enjoy it," said Zeenat.
The artiste has also worked on an album for children with songs from her mother Zebunnessa Jamal's book "Jadur Pencil". Under the label of Fahim Music, "Jadur Pencil" is now in the market too. One Bank has supported the initiative.
Zeenat has been a part of the Bangladeshi music scene for over four decades.
Zeenat is the daughter of Zebunnessa Jamal, an outstanding lyricist of Bangladesh who obtained the Nagendranath Gold Medal from the Calcutta University in Bengali literature. Jamal was a lyricist with a profound aesthetic sense, reflected in the romantic songs written by her. She proved that romantic songs could be written without going into obvious expressions. Her songs had magic and the ability to touch peoples' hearts.
Both radio and television have contributed in promoting unforgettable songs in Bangladesh and abroad. Unfortunately, at that time radio and television had no mechanism to preserve these songs.