World Environment Day Today
Forests for bricks
Brick kilns puff away 240 lakh trees a year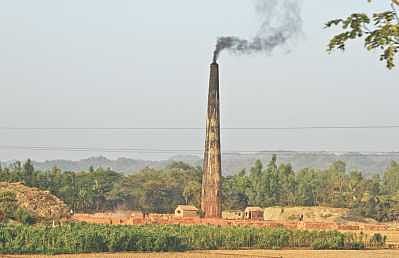 Unregulated brick kilns are burning every year a great quantity of fuel-woods equivalent to 2.4 crore standing trees, which could cover around 96,000 acres of forest land.
The number of brick kilns in the country varies from 6,000 to 8,000, which produce around 1,200 crore of bricks annually by burning mostly coals. But many of the unregulated brick kilns use firewood partially or solely as most of these kilns are either poorly monitored or not monitored at all.
There has so far been no systematic study on the issue in Bangladesh. But the people concerned say on average, a traditional brick kiln burns 70 percent coal and 30 percent firewood.
Asit Ranjan Paul, divisional forest officer of Tangail, conducted a study on firewood consumption by the brick kilns and published it in an annual publication of the Department of Forest on the occasion of Tree Fair 2011.
According to his observation, a wide range of tree coverage equivalent to standing trees on around 96,000 acres of land is being consumed even if it is considered that only 30 percent of brick kilns' fuel is firewood.
According to UNDP statistics, Bangladesh is currently producing around 1,200 crore pieces of bricks every year as the country is having a rapid seven to eight percent urbanisation rate.
In his article, Asit Ranjan estimates that it needs around 25 tonnes of coal or 42 tonnes or 3,500 cubic feet of woods to burn one lakh bricks.
He says if a medium tree produces five cubic feet of firewood, standing trees on 96,000 acres of land would produce 12 crore cft of firewood that could cover 5,411 standard football fields.
According to the Department of Forest and Bangladesh Bureau of Statistics, 2.52 million hectares of land or nearly 17.4 percent of the land mass is forest, of which 1.52 million hectares is under the direct control of the department.
However, different studies show the actual forest coverage is not more than 1.44 million hectares.
Studies show that the current deforestation rate in South Asia is 0.6 percent, whereas it is 3.3 percent in Bangladesh.
Interestingly, the brick kilns, which are largely responsible for deforestation, are regulated by the Department of Environment and the district administration and many of those are running in a freestyle manner.
No government agencies has the exact idea on the number of total brick kilns in the country as even the main regulator -- the Department of Environment -- does not have the exact number.
Currently, a single mobile team of enforcement and monitoring unit of the department is conducting drives against brick kilns violating laws.
An official from the Department of Environment said brick kilns are not only burning firewood and polluting the air but also destroying the environment by using alluvial top soils.
"And it is happening everywhere across the country. But it is hard for us to monitor this practice due to shortage of manpower," said the official requesting anonymity.
A study conducted in Madhya Pradesh in India assumes three to four hectares of fertile land is consumed by each brick kiln which ultimately turns into wetland in eight to 10 years.
According to the Bangladesh Environment Conservation Law, 1995 (amendment 2010), changing characteristics of the land is an offensive crime.
The government formulated the Bangladesh Brick Kilns Control Act, 2006 that prohibits setting up brick kilns within three kilometres of any reserve forest or residential area.
The same law says brick kilns only can use roots of bamboo and trunks of date palms as those do not have other use.
But brick kilns are found everywhere operating freely even at the corner of reserve forests, atop hills, in residential areas and also in commercial areas posing serious threat to environment and human health.
The green campaigners have been urging the government for long to convert the traditional brick kilns into environment friendly brick plants which could save a great number of trees and reduce air pollution.