Nishat reaches Kathmandu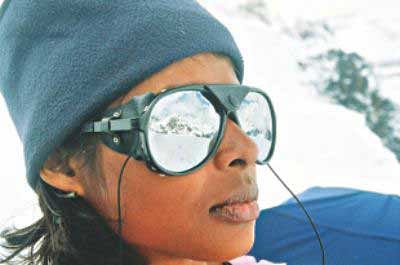 After over 50 days of trekking during which they made history, Nishat Majumder and MA Mohit reached Kathmandu yesterday on a special helicopter.
"We reached Kathmandu at around 9:30 this morning by a special helicopter flight arranged by our sponsors," Nishat told The Daily Star over telephone.
"We hope to reach Dhaka on Monday after completion of all official procedures here," the triumphant mountaineer said.
Meanwhile, another mountaineer Wasfia Nazreen is still at Namche Bazar and hopes to reach Kathmandu on Saturday.
Nishat and Mohit were stranded in Lukla for three days as flight operations from Lukla to Kathmandu remained suspended since Saturday due to bad weather.
At Kathmandu airport they were received by officials of the Bangladesh Embassy in Nepal and members of their sponsor companies.
The two jubilant mountaineers were taken to the residence of Bangladesh Ambassador to Nepal Prof Nim Chandra Bhowmik who greeted them there. Among others, visiting theatre personality Nasir Uddin Yousuff was also present.
"We conferred our heartiest greetings to Nishat who has proved again that women can do anything given the chance," Prof Bhowmik told The Daily Star.
Later at around 12:00pm, Nishat and Mohit were taken to their hotel for rest.
The Nepal chapter of Plan International will host a reception for them today (Friday) at 11:00 am, Mohit told The Daily Star.
"We will try to collect our certificates tomorrow (Friday). If we are not able to do so then we have to wait for Sunday as Saturday is a government holiday here," he said.
Mohit also said that though the embassy plans to host a reception for them on Monday, they will request for the programme to be held earlier so that they can fly to Dhaka on Monday.
Nishat began her expedition from Kathmandu on April 9 under a campaign titled 'Because I am a Girl' run by Plan Bangladesh.
Meanwhile Korvi Rakshand, spokesperson for the 'Bangladesh on Seven Summits' campaign which arranged Wasfia Nazreen's venture, told The Daily Star yesterday, "Wasfia is scheduled to reach Kathmandu on Saturday if the weather remains favourable."
Nishat scaled Mount Everest on May 19 this year, becoming the first Bangladeshi woman to reach the summit. She was accompanied by MA Mohit who scaled the mountain for the second time in two years.
Wasfia followed the feat just a week later on May 26 becoming the second Bangladeshi woman to reach the summit.
These expeditions have come hot on the heels of the first Bangladeshi to reach the summit Musa Ibrahim who made the journey in May 2010.