Aliastair Burt's Visit to Sylhet
UK wants transparency in fund use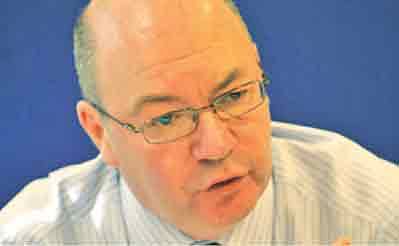 The visiting British Minister for South Asia Alistair Burt has stressed on transparency in utilisation of funds of different aid programmes in various countries.
"We want it works effectively so that more and more people could be benefited. The funds are to be spent properly and fairly", the minister said adding, transparency is very important.
The minister was talking to the journalists yesterday afternoon while visiting Barnamala School at the city's Bagbari area which also provides learning for physically challenged children. British High Commissioner to Dhaka Robert Gibson and other officials accompanied him.
"During my first trip to Sylhet, as well as to Bangladesh I am visiting a few of the UKaid-funded projects, run by organizations to gather knowledge about them", he said.
While talking to the school children, Alistair said children with disability should be given special care since facilities forthem are very limited in the society.
It is not only in Bangladesh, but also everywhere they are more or less neglected or lack proper and due attention from the family as well as the society.
Changing attitude towards the disabled children is very important, he said adding, the organizations working for this group also need to be more capable and widen their activities.
With only a little efforts these people can become as important as others through getting into small business or study.
As the school authorities and the children informed him of the institution in details the British minister expressed his happiness over the way the school is being run saying, there are lot many things to do for them.
No doubt, it is challenging, Alistair said adding, "The UKaid funded projects are doing well I think". The media need to co-operate social advancement activities in a responsible way and they also should focus more on the people with disability.
Sylhet City Corporation donated the land for the school, run under the project 'Promoting Rights and Dignity of Children with Disability' implemented by the 'Centre for Services & Information on Disability' (CSID) supported by the UKaid through Manusher Jonno Foundation.
Earlier in the morning, the British minister visited a non-formal school 'Community Learning Centre' at Doloipara of Sylhet Sadar upazila run by an NGO 'Friends in Village Development', Bangladesh (FIVDB) with the assistance from UKaid and MJF.
A centre styled 'Nari Odhikar Sahayata Kendro' is also run there to educate the poor and under privileged women and children on legal issues.
Ending a 2-day trip to Sylhet, Alistair who is on his first visit to Bangladesh flew back to the capital yesterday afternoon.