Mysterious 'crack disease' affects mangoes in Dinajpur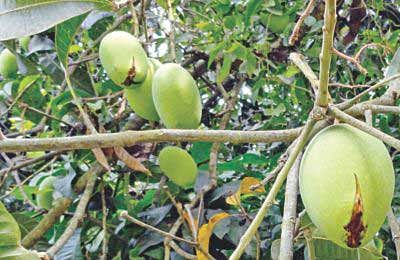 Cracking of mangoes following appearance of black spots in different areas of the district seems to dash the hope of bumper production of the delicious summer fruit this season.
Growers are now worried as the disease, never seen in the area before, is damaging the nearly ripe mangoes within seven days of infection.
During a recent visit, this correspondent found that most orchards of Dinajpur Sadar upazila are infected with mysterious disease and growers and their workers are passing busy time spraying insecticides and separating the infected mangoes.
The mysterious disease was first noticed about 10 days ago, gardeners said, adding that the infected mango develops a black mark and the fruit cracks within seven days.
If the affected mango is not separated immediately, it affects another, they said.
"I noticed the mysterious disease last week. It has already caused me loss of around Tk 6 lakh. I have been with mango business for the last 15 years, but I have never seen such disease before," said Md Rafiqul Islam, who took lease of a mango orchard with 350 trees at Baserhat in Dinajpur Sadar upazila.
According to the horticulture department of Dinajpur, there are 3,000 hectares of mango orchards in the district and at least 50,000 tonnes of mango production was expected in this season.
But sudden spread of the disease dashed the hope of bumper mango yield, much to the worry of a large number of growers who are used to cultivating the fruit as a profitable venture.
The mango orchards in Dinajpur Sadar, Biral, Khansama, Bochaganj and Ghoraghat upazilas are the worst affected.
During this correspondent's visit to the mango orchards, several cultivators including Rafiqul Islam and Tarazul Islam of Khansama upazila in Dinajpur, said the attack of the disease could not be checked even after spraying pesticide as per suggestions of the horticulture department staff.
They alleged that horticulture experts are yet to visit the affected orchards.
"Incidents of cracks in mangoes is not new in the area but spread of such sudden 'crack disease' following appearance of black marks is mysterious. We have suggested using pesticides as remedial measure," said Md Anwarul Alam, deputy director of the Department of Agriculture Extension in Dinajpur.