Children stage Tagore's Kal Mrigaya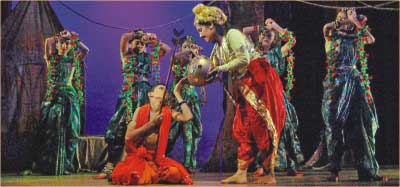 Music lovers of the port city flocked to see "Kal Mrigaya", a dance-drama composed by Rabindranath Tagore at Theatre Institute, Chittagong (TIC) on May 14.
Presented by children, the performance enthralled the audience.
In observance of the 151st birth anniversary of poet Tagore, Fame Dance, Drama and Kids Theatre, arranged the programme.
Chittagong's noted dance artiste Tilottama Sengupta choreographed the dance-drama.
Based on the epic "Ramayana", "Kal Mrigaya" depicts the tragic story of King Dashrath who went out hunting in a jungle where Andhamuni, a blind sage, lived in a hermitage with his son and daughter. On one stormy night the sage's son went out to fetch water for his father. The sound of the water being filled misled the king and he shot an arrow at what he thought was an animal. The arrow hit the sage's son, who died. The incident, later, brought ill fortune to King Dashrath.
The creative Tilottama successfully presented the dance-drama by the young ones.
"I am happy working with children," said Tilotamma adding, "Tagore experimented and used many western melodies in the dance-drama like 'Phule phule dhole dhole' and 'Purano shei din-er kotha' which are very dear to the hearts of the children."
Tilottama also designed costumes, light and stage of the musical drama.