Lalon At Epicentre
Theatre stages Baramkhana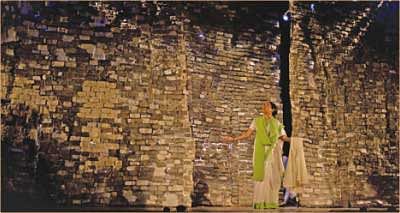 Noted troupe Theatre staged its play on the life and works of Fakir Lalon Shai, "Baramkhana", on May 14 at the National Theatre Hall, Bangladesh Shilpakala Academy.
Inspired by Sunil Gangopadhyay's novel "Moner Manush", which saw a film adaptation by Gautam Ghosh as well, the play is a narrative on how Lalon turned into a mystic bard, and moreover, a glimpse of the present day situation at his akhra in Kushtia. The play has been scripted by Pantho Shahriar and directed by Tropa Majumdar, who also played as the narrator.
Lalon's prime concern was to wipe out class struggle and religious bigotry from society. Through the play, the director raises the question: Is the present-day practice of his philosophy on the right course or is it losing its way amid life's many banalities?
The play is divided into two phases. The first phase narrates Lalon's life. Rather than highlighting his mystic aspect, this part significantly reveals Lalon as a politically and socially aware individual.
The latter phase depicts how people now pay homage to Lalon through organising festivals. This part is more like a satirical depiction through vignettes.
Before the curtain comes down, three large replicas of a wall come down and create a barrier between the performers and the audience. The director uses the wall as a symbol, as she wants to depict how new history develops as the old one remains on the other side of a metaphorical wall.
The cast included Rashedul Awal Shaon, Tanjum Ara Polli, Ershad Hasan, Kawsar Sajib, Kalyan, Tahmina Smriti, Abdullah Al Mamun Jewel and Asma Hena. Wahida Mallick Jolly has done the costume designing. Kartik did the music, while Saiful Islam designed the set.
"Baramkhana" is Theatre's 41st production and the first on Fakir Lalon Shai.