BNP Leaders' Bail Plea
HC judge feels 'embarrassed'
Opposition stalwarts go into hiding to evade arrest; tougher agitation to come from Sunday's demonstration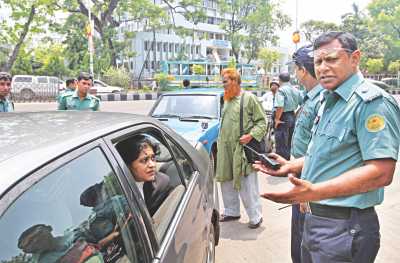 With many senior leaders going into hiding and with high profile visits of foreign dignitaries round the corner, the BNP yesterday refrained from declaring hartal-like programmes and called instead a countrywide demonstration for Sunday.
"Agitation programmes harsher than hartals will be announced from Sunday's protest if Ilias Ali is not returned and if all the false cases against party leaders are not withdrawn," said BNP standing committee member Moudud Ahmed at a rally before the party's Nayapaltan office in Dhaka.
Meanwhile, a High Court judge yesterday felt embarrassed to hear the bail petitions of 27 BNP men, including its acting secretary general Mirza Fakhrul Islam Alamgir, in two cases filed over the violence occurring during Sunday's hartal. The judge, however, did not mention any reason for his embarrassment.
Another HC bench refused to hear the bail petitions of some opposition leaders, who have remained on the run since Monday fearing arrests, while yet another bench passed dissenting orders on a bail appeal.
Amid raids and arrests, several senior BNP leaders have gone into hiding, as the government's sudden tough stance against the opposition's continuous agitation on Monday sent waves of panic through the BNP-led 18-party alliance.
Over the last few days, police have arrested about a dozen top BNP leaders, including Joint Secretary General Ruhul Kabir Rizvi, and filed several cases against the opposition men in connection with Sunday's explosion in the secretariat compound and arson and vandalism during the hartal hours.
Party insiders told The Daily Star they did not go for fresh hartal programmes in view of the visits to Dhaka by US Secretary of State Hillary Clinton and Indian Finance Minister Pranab Mukherjee on May 5 and the Japanese deputy prime minister's visit today.
BNP Chairperson Khaleda Zia assured the US ambassador in Dhaka at a recent meeting of all-out cooperation during Hillary's Bangladesh visit, they added.
Later in the day, Khaleda held a meeting with some pro-BNP lawyers at her Gulshan office to find out a way to secure bails in the cases filed on Sunday night against top leaders of the 18-party alliance.
The accused include Mirza Fakhrul, party standing committee members Mirza Abbas, Goyeshwar Chandra Roy and Hannan Shah, party Joint Secretary General Ruhul Kabir Rizvi, party lawmaker Shahiduddin Chowdhury Anee, and Liberal Democratic Party President Oli Ahmed.
In another development, police on Tuesday produced Rizvi before a Dhaka court, seeking 15 days' remand. The court will hear the petition in Rizvi's presence today.
Accused in two cases in connection with hartal hour violence, Rizvi was arrested on Monday evening from the capital's Kakrail area.
Political tensions have been running high since the disappearance of Ilias Ali, an organising secretary of the BNP and a former lawmaker, and his driver Ansar Ali around midnight of April 17 from the capital's Banani area.
In protest, the BNP enforced three consecutive countrywide shutdowns from April 22-24 and the BNP-led 18-party alliance enforced two similar lockdowns on April 29-30.
The hartal violence left five people dead and scores of vehicles damaged across the country.
MOVEMENT TO CONTINUE
Senior BNP leaders yesterday warned the government of ceaseless movement until Ilias Ali was rescued and the caretaker government system was restored.
Demanding the withdrawal of cases against party leaders, they said such cases would not be able to weaken their agitation.
"The ongoing agitation will turn into an oust-government movement if the government fails to give back Ilias Ali," said Moudud, addressing the Nayapaltan rally.
The battle will continue on the streets as well as in court, he said.
Standing committee members Rafiqul Islam Mia, Abdul Moyeen Khan, Nazrul Islam Khan, Bangladesh Jatiya Party Secretary General Shamim Al Mamun and Islami Oikya Jote Secretary General Abdul Latif Nezami, among others, spoke at the rally.
Several thousand leaders, workers and supporters of the 18-party alliance, which include the Jamaat-e-Islami, attended the rally.
BAIL TROUBLE AT HC
An HC judge felt embarrassed to hear the bail petitions of BNP men, including Mirza Fakhrul, in two cases filed over violence during the hartal hours.
AKM Shahidul Huq, the junior judge of a division bench of the HC led by Justice M Siddiqur Rahman Mia, did not, however, explain why he was feeling embarrassed.
Two judges of another HC bench issued dissenting orders on a bail petition by BNP lawmaker Mahbub Uddin Khokon, an accused in one of the two cases.
Justice Anwarul Haque granted anticipatory bail to Khokon for a week and directed him to surrender before the trial court within that time, while the junior judge of the bench, Mojibur Rahman Miah, rejected the bail petition.
Khokon's chief counsel Rafique-ul Huq told reporters that in his 50-year career in law he had never seen two judges pass dissenting orders on an anticipatory bail plea.
Early on the day, a group of pro-BNP lawyers led by Moudud Ahmed submitted four bail petitions before the HC bench of Justice M Enayetur Rahim and Justice Sheikh Md Zakir Hossain.
The bench refused to accept the petitions for hearing, saying it did not have the jurisdiction to do so at the time.
The lawyers then moved the petitions before the HC bench of Justice Siddiqur Rahman Miah and Justice AKM Shahidul Huq, which also refused to hear the petitions since those were not on yesterday's cause list.
Justice Siddiqur asked the defence lawyers to resubmit the petitions on May 6.
When the lawyers pressed further for hearing, Justice Shahidul Huq felt embarrassed.
RIZVI HEARING; RATAN SHOWN ARRESTED
Two Dhaka courts on Tuesday fixed today for hearing a 15-day remand prayer for Ruhul Kabir Rizvi in two cases.
One case was filed for exploding "bombs" in the secretariat compound and the other for torching a bus near the Prime Minister's Office on Sunday.
Meanwhile, Kamruzzaman Ratan, an executive committee member of the BNP, was shown arrested yesterday in the case for arson. The investigation officer submitted a petition seeking a five-day remand.
Ratan, also a former student leader and close associate of Ilias Ali, is among the 11 BNP leaders arrested on Sunday and Monday.