Hammer or homework!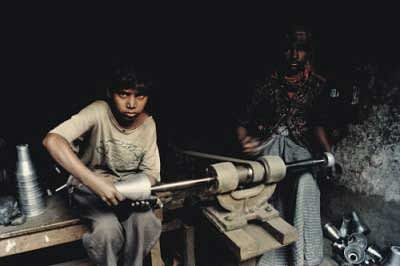 May Day is being observed today in the world with the vow to institutionalise the socio-economic rights of workers. Different trade and labour organs/unions, human right organisations, socio-cultural organisations and political parties observe the Day by holding rallies, cultural programmes, etc.
Child domestic service is a widespread practice in Bangladesh. The majority of child domestics are 12 to 17 years old. But children 5 or 6 years old can also be found working. 50% domestic workers work 12-14 hours a day, but are the least paid. In most cases, they give their earnings to their parents,
The working child population of the country demanded the following essential facilities from the government: Free education for the disadvantaged children; family pension for the working children; compensation to be provided by the employers in the case of accident during work; and essential requirements like food, clothing, lodging, education and medical treatment have to be provided by the government free of cost. Stop child trafficking, oppression of women and children, and all forms of terrorism. Ensure payment of salary in time. Stop child labour; ensure healthy environment at home and workplace; provide recreational facilities for children.
Employers in urban areas usually recruit children from their village homes through family, friends or contacts. Most of the domestic child workers come from vulnerable families, and many of them are orphans. A good number of them are from single-parent families.
A child worker is considered a cheap and easily controlled worker in the labour force. Poverty, illiteracy and child labour go hand in hand. A child's earnings is a necessity for the families that struggle to make ends meet. The child has no alternative. The lack of quality education and the pitiable conditions of available schools are no incentive for a child to quit work and join school. In addition, children become the victims of violence, exploitation and abuse, which can result in physical and phychological disabilities.
Children do different types of work. Breaking bricks may cause damage to the fingers, for which a rubber glove could be worn. Chips of brick may enter the eyes and cause harm. Another job is welding. This work is inappropriate for children. When they work in welding, they must use protective spectacles. Another work is motor mechanic. The children work with chemicals and acids. If this acid goes into the eyes then that would destroy their vision. Another work is carrying heavy load or bricks up the stairs.
A large number of child domestics are working either without salary or no fixed salary. Lack of salary is compensated by commitment by the employers for better jobs in the future. A study shows that no money was paid to the child domestics when they went on home leave or when they had visitors (parents/other relatives) coming from their rural homes to see them. The majority of child domestics earn less than $2.50 per month.
National Women Lawyers' Association found that 52 domestic workers were murdered in 2010-2011, and most incidents of torture were not published. In Bangladesh, more than 20 lac people are engaged in domestic work. Among them, 80% are women and children. 18 lac domestic workers are under the age of 15. The High Court has banned employment of children who are less than 12 years as domestic workers.
Recently, in a seminar, it was shown that there are almost 3.5 crore children in Bangladesh, of which 18% are working children. 5% of the children are engaged in hazardous jobs. Children are involved in 301 kinds of jobs, among which 48 jobs are very dangerous.
ILO says that the number of child labourers is highest in Asia, followed by sub-Saharan Africa and Latin America. ILO wants to remove child labour from the world by 2016, though it might not be possible for economic reasons.
Both in the government and the non-government sectors, women workers are discriminated against in payment of salary. They often don't get the wages fixed by the government. In all kinds of industries in Bangladesh, 48% of women workers don't get minimum wages in the non-government sector, and 14% are deprived in state industries. 32% of the women who work as helpers in garments industry don't get minimum wage fixed by the wage board. A woman worker has to work more than a man to prove her efficiency but still she does not get the same pay as men.
A woman helper gets Tk.274 while a male helper gets Tk.361. A woman helper gets bonus of Tk.612 per year while a male gets Tk.1220. BIDS published a survey which showed that 33% women leave their jobs because of inadequate pay. Nobel Laureate economist Amartaya Sen said that many skilled women were lost from the job sector because of the discriminatory attitude.
72% girl children of urban-slum are workers. Presently, 4 lac women of 18 to 19 years age work in garments industry, whose average salary is Tk.700 to Tk.1,400 per month.
It has been found that 25% of teen-aged female domestic workers are sexually harassed by their employers and 10% of them are raped.
We always heard about the demand for Bangladeshi workers in the international labour market. But the present situation is quite different. Bangladesh is losing many labour markets because of the lack of skilled workers. In 2000, Bangladesh had 5% professional workers in international markets, but in 2008 it was almost 0. But international demand for women workers is increasing day by day.
The writer is Senior Lecturer, Dept. of English, ASA University, Bangladesh.