US university launches Yunus Scholarship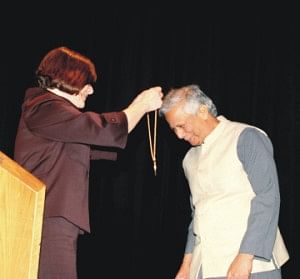 The City University of New York launched 'Muhammad Yunus Scholarship' programme on Monday.
Under the programme, the institution will provide scholarships every year to 10 brightest students from families who have taken loans from Grameen Bank. The students will undertake four-year courses there.
Nobel laureate Prof Muhammad Yunus, the founder of the Grameen Bank, inaugurated the scholarship programme on the university campus. The university also honoured him with the Chancellor's Medal, according to reports from US-based news agencies ANA and News World.
Speaking on the occasion, Prof Yunus said Grameen Bank families are seeking to educate their children at the highest level and that a number of them are already PhD candidates at various universities.
"None of the 7.5 million mothers who take Grameen Bank loans think that primary level education is enough. Most of their children are going or want to go to universities," he added.
He said 51,000 scholarships were given to Grameen Bank family members for secondary and tertiary education last year, with 21,000 going to either medical colleges, engineering institutes or universities.
He also reiterated his view that poverty is not inherent and it should be eradicated through social business, not through charity and aid.
Lauding the caretaker government's anti-corruption drive, Prof Yunus said the drive has left no scope for returning to corrupt and crippled governance of the past.
Asked whether he would agree to become the president of Bangladesh if such offer is made, Prof Yunus declined to reply.