Cashing in on others' woes
BCL leader builds small dams on canal to cultivate fish while15,000 farmers suffer for want of water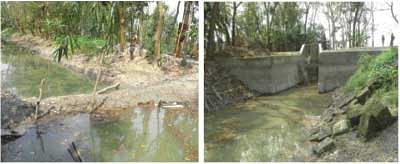 A local leader of Bangladesh Chhatra League (BCL) in Char Miazan, a coastal island in Baufal upazila under the district, has built several temporary dams by putting earthen barriers on a canal to cultivate fish there.
Siddiqur Rahman, president of Char Miazan unit of BCL, who did the callous act two years ago, also closed a sluice gate that let water from the river to the canal.
Consequently, local farmers are suffering from want of irrigation water for their agricultural fields.
Most of around 15,000 residents in the char, about 20 km away from Baufal upazila headquarters, are dependent on agriculture, and Water Development Board (WDB) built 14-km-long flood control embankment around the island several years ago to protect the residents and 10,000 acres of agricultural land from tidal surge and saline water, said sources of local Najirpur union parishad.
WDB also dug a 12-km long canal from Char Roy Saheb to Char Kachua in the island to ensure smooth supply of water from the river considering interest of agricultural activities. Moreover WDB built a sluice gate on the canal near Roy Saheb Bazar to control water flow there 10 years ago.
But now local farmers are not getting benefit from the sluice gate or the lone canal in the island as BCL leader Siddiqur Rahman closed the sluice gate and built over 10 dams illegally on the canal to cultivate fish there.
"Over 5,000 acres of land has been brought under crop cultivation here this season but the crop fields are drying due to irrigation crisis as the BCL leader has closed the lone sluice gate," said Abdul Mannan, a local farmer.
"Now we cannot get water from the river and the canal. All our crops will be destroyed if the sluice gate is not opened soon," he said.
Irrigation is badly hampered as the BCL leader and his accomplices built several dams on the canal and divided it into a few sections to cultivate fish two years ago, several farmers told this correspondent during his recent visit to the area.
However, they sought anonymity in fear of reprisal from the perpetrator.
Siddiqur Rahman, the BCL leader, said, "Nobody even MP or minister can cut my dams. I built those on my own land."
But he did not explain how the land under canal water could be his.
Ibrahim Faruq, chairman of Najirpur union parishad, said, "Local farmers are greatly suffering due to the dams on the canal. Nobody should not build such dams as it is the lone canal in the area and it is very useful to local farmers."
When contacted, Abul Kalam Azad, upazila nirbahi officer of Baufal, said, "After hearing the matter, I asked the upazila assistant commissioner of land to submit report over the matter after proper investigation within seven days from Sunday last."