<i>Flew home for a shock</i>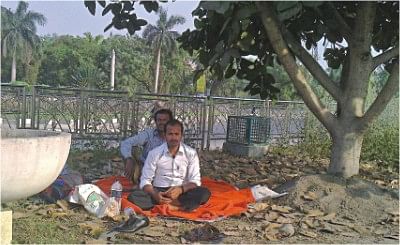 Instead of a warm homecoming reception, Lebu Mian found a nervous capital and felt uncertainty within when he landed at Shahjalal International Airport from Riyadh yesterday.
Even two hours after his arrival, none of his family could show up at the airport to take him home in Tangail, around 100 kilometres from the capital. Thanks to government's "precautionary measures" and subsequent panic among citizens centring BNP's grand rally.
Lebu Mian was found waiting under the airport canopy with trolley load of luggage around 4:45pm. With almost all mode of transport off the road the man was plunged into deep uncertainty.
"Travelling a long way, I am still so away from home. We send our hard-earned money from abroad but find ourselves as political hostages when return home. This is unacceptable," said the man in furious mood.
The suffering of outbound passengers and their relatives was no less than the ones returned home like Lebu Mian.
Many such people, mostly workers heading towards the Middle-East, came to the airport two days before their schedules fearing they might miss flights due to restrictions on vehicular movement from outside the capital.
They with their relatives had to pass almost sleepless night with limited food and unbearable mosquito bites at the airport.
"We came to Dhaka Saturday afternoon apprehending no vehicular movement. Since then we have been staying at the airport," said Abdul Latif from Sreepur upazila of Tangail.
"My wife and other family members usually see me off but this time I did not dare to bring them with me," he said.
Latif was scheduled to go to Saudi Arabia today at 2:00am.
The Daily Star found Latif and his elder brother Abdul Hamid lying under a small banyan tree on the airport premises around 4:00pm.
Hamid said since his brother was a passenger he was allowed to pass the night under the canopy along the airport driveway but Hamid had to spend the night outside.
"There are several hundred more like us," he added.
Meanwhile, no international flight was cancelled at Shahjalal International Airport. Officials of local and foreign airlines said they did not have any reports of passengers missing flights.
"We have got all passengers on board," said an official of state-owned Biman preferring anonymity.